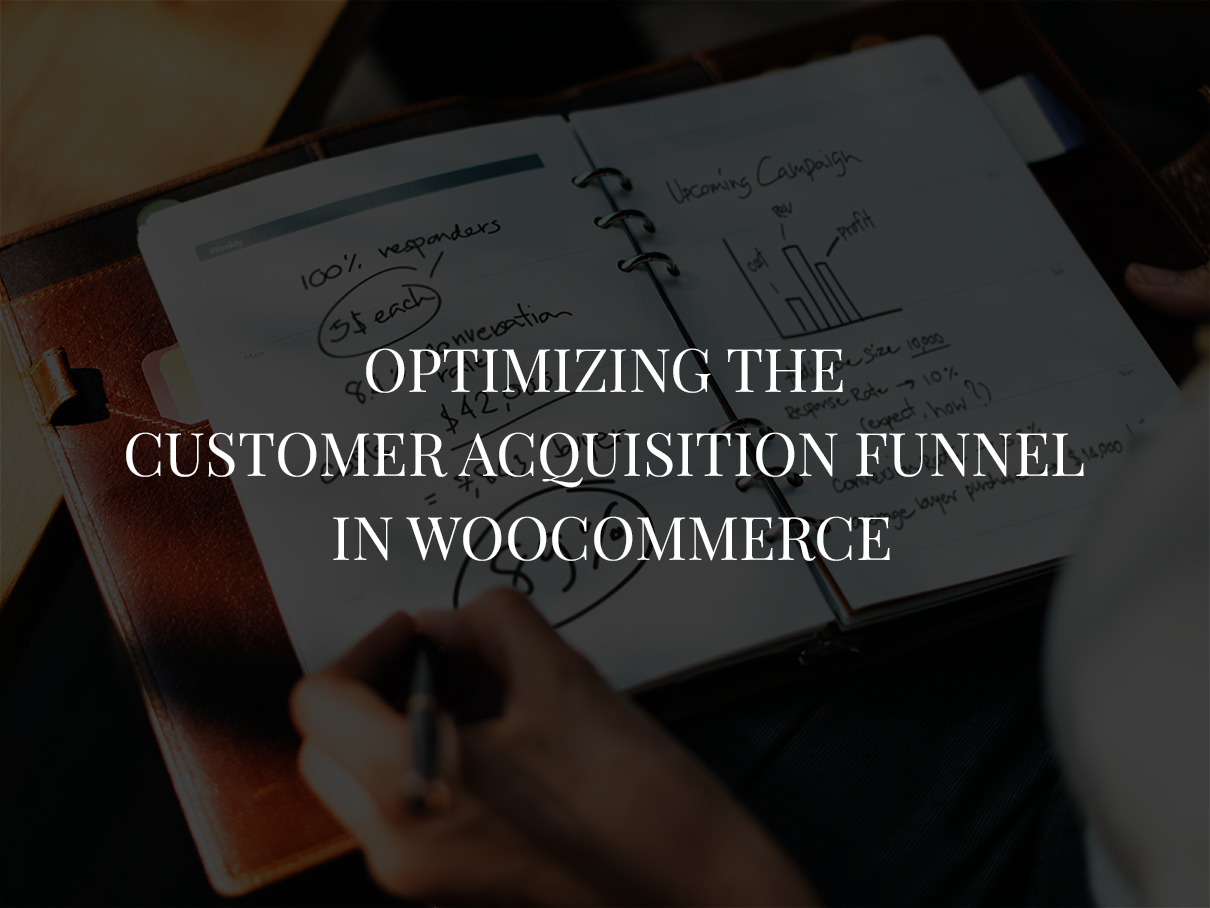 Getting more customers is a major point of focus for businesses as it is the primary method of generating more revenue. That seems obvious, but not having the right strategy to do just that can mean a dead end, even in eCommerce wherein technology is supposed to be on your side.
Being able to optimize your customer acquisition funnel for your online business is a big part of the strategy. Using WooCommerce can make things easier for you. With the amount of control you are afforded by it, you can focus on creating a good strategy.
Look for the Right Acquisition Channel
There are many ways for customers to discover you. Find which one is the best for your online business. If you try to stretch yourself out to so many, you may attract less customers. It is wiser to concentrate on these two channels.
Search engine optimization (SEO)

If you have good contents and are able to optimize these pages through search engine optimization (SEO), there will be a bigger chance of attracting millions of users who search for these particular contents. With SEO, you'll be able to track and measure your success as well.

Sales

Build an effective and beneficial sales process. Anticipate that things may get complicated once your new leads reaches hundreds or even thousands per month.
Generate Customer Tunnel Vision through UX
Your website's design can greatly impact the user experience. Being able to lead the eyes of the customers to certain parts of the screen is a powerful thing. Creating that tunnel vision where customers see what you want them to see is not an exact science, but there are principles that can help achieve that effect.
For instance, putting related elements right next to each other helps for better visibility. Customers do not need to go all over the page to find what needs to be seen. You also may want important elements highlighted in some way, through use of bold fonts or use of a different color, while still complimenting the rest of the design.
Keep Your Existing Customers Engaged in Repeat Business
Retaining customers is all about satisfying their needs and keeping them engaged. It should be easy to do the former, but the latter takes a bit more effort. The most straightforward way to do this is to never ignore a customer who directly engages with your business.
When their messages are responded to quickly and without fail, it gives them a feeling of importance and shows them your dedication to customer satisfaction.
Whether it is through email, social media, or even through old school means like telephone or snail mail, quick response to each and every inquiry or concern, is important.
Know Where the Traffic is coming from
This is some sort of an extension of "Looking for the Right Acquisition Channels". This information is highly important as it points out to you where traffic is coming from, whether through social media sites, search results, links from emails, direct visits to your website, and so on. Focus on penetrating heavily traffic sites to promote your business.
Implement Contextual Marketing Strategy
Contextual marketing make it seem like you are talking directly to a particular customer. A visitor to your website may see a regular landing page the first time, then something different like middle-of-funnel content the next, and then something else after that. If that individual happens to be on your mailing list, you can employ email drip marketing to entice engagement by showing what may be of interest at that time. Employing contextual marketing makes for customer acquisition that is seemingly tailor-made.
Include Case Studies on your Website
Show what you are capable of offering, in whatever form or scenario. This creates an impression that you are ready to give them what they want. Present as simple as a set of goals and what you would do to achieve each of them.
Make them as succinct and concise as possible, then put them on your homepage so everyone coming in can see them easily. You can also write blog posts about those case studies, elaborating on your approach and whatever contingency measures that may be necessary.
Use Live Chat to Engage with Customers in Real Time
This is an extension of "Keeping Customers Engaged". If you wish to make it clearer to your customers that you are willing to give them your time, then you can take the extra step and make live chat available for customer's inquiry and support. Being able to reach you at any time is advantageous. It is even better if they get a response quickly. It does take quite a bit of nerve to implement it, but it is certainly worth it.
Make Sure Your Business Contact Details are Visible in Your Whole Store
Your name, address, and phone number should be easily seen. It is not to say you should spam them all over the place, but make sure they are in a place that can be easily spotted when customers start looking for your contact details. When a customer is interested in getting in touch, there should be little, to no deterrent to them, being able to contact you directly for inquiry.
Tap into New Leads' Whole Social Network
This is one of the quickest and easiest ways to optimize your customer acquisition funnel, yet it is often ignored by marketers. Being able to tap into a lead's whole social network may sound lofty, but it is certainly not impossible. You just have to know what tool you can use to accomplish this.
In most cases, that would be the "Thank You" page, wherein customers would be at their most excited mode. You can put call-to-action statements and buttons, social media buttons, or additional bonuses and gifts to sweeten the deal.
Provide Tangible Value to Customers
Focusing on providing value that customers can actually get their hands on is pretty much your focus as a business. It does not matter what kind of business you may be in, or however you prefer to do things, this remains your primary directive. Being able to give solutions to problems and help customers transact more easily or more effectively is always beneficial to both your business and customers.
When you are able to give value to customers, they will likewise be willing to give you value in return. If you want to earn more, you have to give more.
Answer Questions in Quora
Quora is a place where you can ask a question about anything and have an expert in that field give you an answer. Being an expert in Quora can give you a good bit of authority in your chosen field of expertise and lead people to wanting to see what you have going on.
Through this method, you can get referral traffic from Quora to your website, and all it really takes is just a bit of time for you to answer other people's questions. It is a good way to provide free value to people who may then become interested in more of what you have.
Summary
There are numerous ways to better one's customer acquisition funnel. Being able to pick out which ones best fit your customer acquisition strategy can be quite advantageous. If you have questions or suggestions regarding customer acquisition for WooCommerce or eCommerce in general, please feel free to leave a comment below. Thank you for dropping by.
About the author: Nera Cruz is a technical writer and a web merchandiser for different online marketplaces around the globe since 2011. Nera gained tons of experience working with several e-commerce platforms. She spends her free time selling her fashion products and gadgets on Facebook (Nera Shoppe). You can also follow her on twitter @nera_joy.
Posted In: