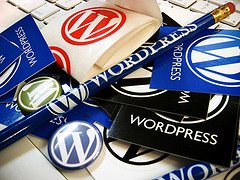 Time and again we all come across some unique demands from the clients. One such request is implementing the WordPress Menus in Thesis. While Thesis navigation menu offers multiple options, WordPress navigation menus are far more flexible; allowing you to assign custom classes to each menu item or adding child pages. As compared to Thesis navigation menu, WordPress menus allow for more customization features. Thus introducing the WordPress menus in Thesis theme is a viable and feasible option. Here are three simple steps to add WordPress menu support in Thesis.
Set Thesis To Use WordPress Menus: Thesis 1.8 offers support for WordPress 3.0 Menu Support. Now you can simply integrate the highly customizable WordPress navigation menus into Thesis by selecting the option. Locate Thesis > Site Options in the left panel of the dashboard. Under the Navigation Menu section, select WordPress nav menu to activate WordPress navigation menu in Thesis.
Create Your Menu: The next step is to start creating the menu. To create the menu, go to Appearance > Menus from dashboard. This will open up the GUI editor for creating the menus. Provide the name of the menu and select the pages you want to add to the menu. After creating the menu and adding the menu items set it to be used as primary navigation (because Thesis supports only one menu).
Incorporate Menu Support: WordPress navigation menu is basically a theme feature. It thus requires you to activate the feature by registering the theme support.  You need to add the following code to custom_functions.php to add the theme support for WordPress navigation menus.
add_theme_support('menus');
While other themes specifically need to register the navigation menu and go through the complex procedure of adding the menus through code, thanks to Thesis's extended support for adding the WordPress navigation menus which simplifies the whole procedure.