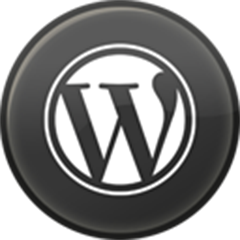 Wordpress μ (pronounced Mu) is a port of WordPress built to run multiple blogs off the same installation. That's what WordPress.Com uses to run all it's blogs. While all is Hunky Dory for the regular requirements, things take a twist when you want to run wordpress blogs off WordPress μ on multiple domains like www.domain1.com, www.domain2.com,www.domain3.com off www.domainmaster.com. For a brief background, most of the webhosts provide you the ability to host multiple domains under the same account. So just in case you want all these domains to run off a single installation of WordPress μ here is a step by step approach.
Assumptions for Installation of WordPress MU (WPMU)

You have licensed the domain names adblogsense.com to use as the multiuser account master and photographysimplified.net to use as the first blog. [Of course these names are fictitious and you'll need to get your own.]
You have a hosted account with HostGator (or similar setup).
You will install the WPMU files and will want to be able to refer to them by browsing to http://www.adblogsense.com or to any blog you install.

Get and prepare WordPress μ
NOTE: Be sure to read the caveats and discussion on the download page.

Download latest copy of WordPress MultiUser (latest at this time is wordpress-mu-2.8.4a.zip) from http://mu.wordpress.org/download
Unzip the downloaded file into wordpress-mu folder

Create a database on the host

Log into the cpanel – http://adblogsense.com/cpanel
Scroll down to the section called Databases
Choose MySQL Databases
Create a database
Create a database user (admin) with a password
Add the user to the database
Assign user permissions as you see fit
Be sure to record the names that were assigned to the database, user, and password. You'll need them a little later.

Create an email (Optional)
Create an email account in adblogsense.com and change your gmail settings (or other email server settings) to allow you to send and receive mail with this address. Or you can just use your existing email address.
Upload: Using an FTP Program move contents of the wordpress-mu folder (not the folder itself) to the root directory of your multiuser account (adblogsense.com) , that is, directly into the public_html folder. There is about 7.1 MB worth of files but just remember that they are only installed once and can be used to host one or more blogs. Ten blogs would not require 71MB worth of WordPress files only the original one time install of 7.1 MB.
Install WordPress μ

Login into http://www.adblogsense.com
You will be presented with the WordPressMu Installation Screen
Under Blog Addresses, do as recommended. Click the radio button to the left of Sub-domains if it is not already selected.
Under the Database section, insert:

Database Name
User Name
Password
Database host – almost always called 'localhost'

Under the Server Address, leave it as shown. Our example would show 'adblogsense.com'
Under Site Details, insert a good title for your site. Ours could say 'adblogsense.com Blogs'. That feels a little rough so you may change it slightly to adblogsense Information.
Then insert an email address (perhaps the one created above) where you want to get notifications from this site.
Click on the Submit button and voila, the first part of the installation is done.
NOTE: Notice that you probably have some disquieting news warning you about "Wildcard DNS could not be configured correctly". Not to worry! We'll take care of that soon.

Login as admin

Your assigned admin name is 'admin' and you have a strange looking password. Copy the password.
There are a lot of warnings and instructions on this page. Ignore them.
Click on Login
Enter the login name and password and you are magically transported to the dashboard.
If you are or are not offered a chance to change your password, go ahead and do so.
There may be a message at the top of your page that sends you to your profile to change the password OR
You may have to select the Users link on the left, mouse over 'admin' and choose edit, then scroll to the bottom of the resulting page and type in a new password. Then click on Update Profile.

Install the domain mapping plugin

Be sure that you are logged in as THE administrator of the account. If you've created another user name, even if logged in with an administrator ability, you may have problems continuing.
Click on the Plugins link on the left of the dashboard page.
Click on Add New.
In the search box, enter 'Domain Mapping'.
Click on Search Plugins button.
On the returned page, click on the Install link to the right of "WordPress MU Domain Mapping".
You may get a message saying that this plugin has not been tested with the version of WordPress you are using. Ignore it and press the Install Now button.
Click on the Activate Plugin link.
In the box just under the title Manage Plugins, click on the Activate link so that 'normal' users may be able to see the plugin.
Then at the bottom of the page, click the checkbox to the right of the word 'Plugins'.
Then click on the Update Optons button.

Install the first blog – will be photographysimplified.net

Go to adblogsense.com/cpanel
Choose subdomains icon shown under the Domains label
Enter an asterisk to get a wildcard address of '*.adblogsense.com'
Press Create button
Press Go Back link after receiving confirmation that the subdomain was created.
Get IP address of host server. HostGator shows its IP address (74.52.112.3 – just and example) on the left side of the home page.
Choose Addon Domains.
Enter photographysimplified.net in new domain name
Click into Document Root textbox and delete everything after the / of public_html/
Choose a password
Click on Add Domain button
Return to adblogsense dashboard

Add a New Blog

Click on adblogsense Dashboard
Click on Site Admin
Click on Blogs link
At Add Blog, type name of domain (photographysimplified) to form photographysimplified.adblogsense.com
Add Title and Email
Click on Add Blog
Go to backend (aka dashboard) of photographysimplified by mousing over its domain name and selecting 'backend'
Click on Plugins
Click on Installed
Click on Activate for Domain Mapping
Look under Tools label and Click on Domain Mapping. Note the instructions about sunrise.php. We will deal with them in the next step.

Do Some House Keeping

Using FTP again copy the file 'sunrise.php' from the public_html/wp-content/plugins/wordpress-mu-domain-mapping/ folder into the public_html/wp-content folder. This means that the sunrise.php file supplied with the Domain Mapping plugin replaces the sunrise.php file usually installed by WPMU.
Use a Text Editor to uncomment sunrise.php at about line 87 of the wp-config.php file
Back to the Browser one more time

Go back to the adblogsense dashboard, choose Tools then Domain Mapping.
Add the IP address for your hosting service, in this case, 74.53.172.3 for HostGator.
Add New Domain www.photographysimplified.net and click Add Button
With all this done your blogs should be up and running. You can repeat the required steps from 9,10,11 to add any more blogs. New wouldn't you like to use the Thesis WordPress Theme – Developer Edition on WordPress μ powered blogs? Watch this space for the next in series.
Posted In: