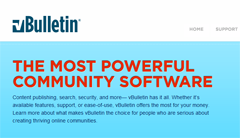 We recently received a review copy of the vBulletin Publishing Suite. After testing it out we found it an apt piece of software for review. vBulletin Publishing Suite is the commercial software produced by vBulletin Solutions. The software is a publishing platform which includes a community forum. Traditionally, vBulletin has been known for its discussion forums. With vBulletin Publishing Suite, you can now run a website/blog and integrated forum.
A single license of vBulletin Publishing Suite costs $285. Considering the fact that this is a paid solution, the expectations are high. The CMS is comprehensive and with the plethora of features and customizing abilities offered, it involves a learning curve.
vBulletin is a hub of customizability. It offers scores of features and a user friendly interface to get started with the community forum. While exploring the features and set-up options it offers, we came across some of the features which successfully overpowers vBulletin amongst other internet forums.
Comprehensive Options: vBulletin publishing suite comes packed with host of easy to set options. With its initial release in 2000 to the current release, vBulletin has broken the barriers to emerge as highly usable and easily manageable forum software.
Social Bookmarking Manager: vBulletin's social bookmarking manager in-built the support for major social bookmarking sites. Digg, delicious, stumble upon are activated by default, while you can add further options by clicking "Add new social bookmarking sites".
Efficient Blog And Content Management: It provides distinct panels for blog management and content management. While the blog manager takes up the charge of blog entries and statistics, content manager helps in playing around with layouts, adding the widgets and setting the permissions.
You Tube Integration: vBulletin respects user interactive activities and thus provides the feature-set to easily integrate the you tube videos to your CMS powered by vBulletin.
Advertisements Management: Advertisements play a major role in blog monetization and as a part of blog-maintenance, vBulletin provides support for publishing advertisements as well. The advertisements can be placed along the blog sidebars, in the forum or along the discussion threads as well.
Customized Look And Feel: As a forum software you cannot expect more, but vBulletin still provides fair options for customizing the look and feel of the forum and blog. You can use styles manager to get involved in changing the colors, fonts, layouts, etc.
Penalties: vBulletin also makes provisions for penalizing undesirable activities in the discussion forum. vBulletin automatically ban the user on the basis of pre-defined set of activities which include inept language and also the reputation of the members disrupting the threads.
vBulletin is a pervasive software tool designed exclusively for people who value the forums and discussion platforms. Running a premium publishing suite has it's advantages and vBulletin doesn't let you down. But if you are just starting out it's perhaps wise to get used to something simple. If you are starting a professional community, vBulletin takes the cake. You can get a license for vBulletin here.
Posted In: