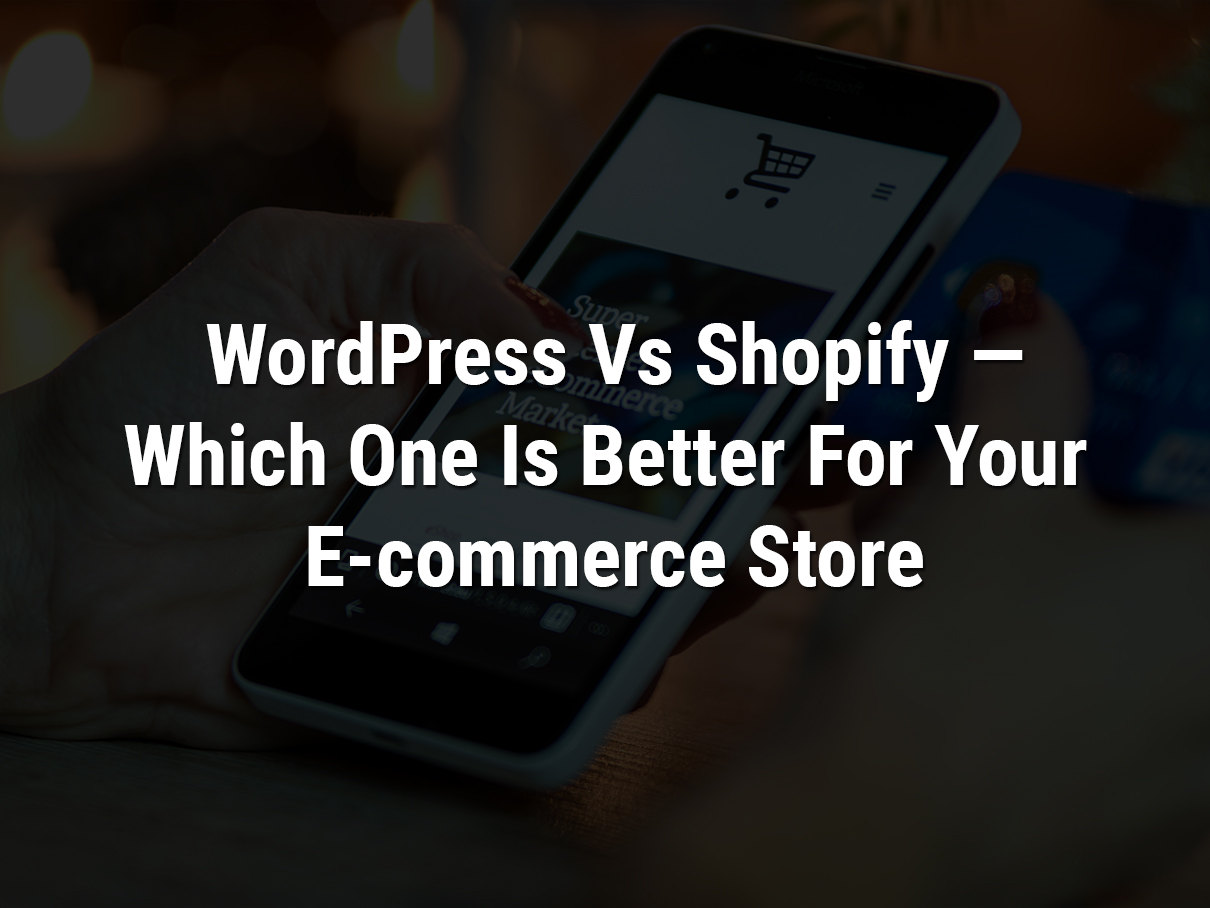 So, finally, you have decided to launch your own e-commerce store. It is evident that you will face some common set of questions like thousands of others. One of the major concern is regarding the platform that will be best for creating the e-commerce store. When we begin looking out for the best platform, two of the most common names that appear are WordPress and Shopify.
In this post, I am going to give a brief description about both of them along with showcasing the major differences between them.
Let's start with an introduction.
What is WordPress?
WordPress is such an amazing web building platform that gives its users an unmatched liberty to design a website. This is possible due to the plethora of themes and plugins that are housed by the WordPress directory. Along with these, using SEO tools for the images galleries, and integration with social media can be easily done with the help of WP plugins.
The flexibility that WordPress provides to its users is hard to match by any other platform. From the perspective of e-commerce, the integration of WooCommerce E-Commerce plugin will give you a complete control over your store. With WordPress, you will be able to customize the e-commerce store, however, all the technical and security aspects need to be handled by you.
Learn more about WordPress here →
What is Shopify?
Shopify, unlike WordPress, has only a limited number of add-ons and themes. However, a number of users prefer the platform due to its mere simplicity in setting up an E-Commerce website. There is no need to configure all the complicated settings as Shopify has all the features that are required for building an online store. Some of the users have even switched from WP to Shopify as they felt that the former was too complicated to configure. Some of the developers also felt that setting up the basic E-Commerce features is a tedious task.
With Shopify, you will get a hosted solution that will include all the common e-commerce needs. However, in terms of flexibility, the platform is way behind WordPress.
Learn more about Shopify here →
Major differences between WordPress and Shopify
Now after having a brief discussion about both the platforms, it's time to point out the major differences between the two.
With respect to Design
Design plays a major role in an e-commerce website, as it is the first impression that the customers get.
As we have discussed above, in terms of design features, there is no one that can beat WordPress. There is a huge collection of themes and plugins that are available in the WordPress directory. This will enable you to build your e-commerce store in the desired way. In some cases, you may not even feel the need to customize the theme as it is possible that the design you choose will perfectly match your store requirements. There are thousands of themes that are available totally free of cost. Similar to the themes, you will also be able to find a large number of plugins that will add the functionality to your e-commerce store.
Obviously, Shopify will not be able to provide you with the liberty and freedom of WordPress, however, the platform is not bad either. The themes that are catered by Shopify are visually appealing and is the main reason behind its selling point. Every theme has its own unique variations that make them look great out of the box. All of them have a clean aesthetic and sleek design that will give a modern look and feel to your e-commerce store.
The reason behind the high-quality design of the themes is due to the professionalism of the designers that are working with them. However, you will need to shell out a lot more as some of the themes are pretty expensive.
On the basis of Hosting, Security & Speed
Once you buy the monthly subscription of Shopify, there is no need to worry about hosting, speed, security and optimization of your e-commerce store. All the subscription plans of Shopify include hosting, subdomain and SSL certificate. A user doesn't have to pay anything extra apart from the cost of the plan. However, Shopify doesn't give you access to the server via FTP. For editing any of the website files, you will have to make use of its built-in editor. As a store owner, you will need to check out Shopify's domain rather than the domain of your store.
Talking about WordPress, as a user you need to take care of the security and the hosting speed of your website. It is up to you as to which hosting company you choose. The speed and the optimization aspect of the site have to be dealt by you as WordPress doesn't provide any support from its end. However, the flexibility and customization that WordPress provides will enable you to make changes to your website. There are some good caching plugins that will make your WordPress site run faster when compared with that of a Shopify site.
Pricing
When compared with WordPress, Shopify has a well-defined price structure. There are different packages that have their own set of features and prices. You can opt for the 'Lite', 'Basic Shopify', 'Shopify' or 'Advanced Shopify' package. In addition to that, a small fee will be charged from the user whenever he sells something on the store. This is a sort of a transaction fee. Check out Shopify pricing plans here.
WordPress, as we all are aware, is an open source platform. This means that you don't have to pay a single penny for using the platform. However, in order to set up your own e-commerce store, there are quite a few things that will cost you. These include hosting, domain name, the cost of the theme, extensions in the form of plugins and an SSL certificate.
User Friendliness or Ease of Usage
Shopify is best suited for those who are willing to develop their own e-commerce store. All the features and functionalities have been designed in such a manner that makes the entire process of setting up your store an easy one. There are numerous options that a user can find. However, user-friendliness is the topmost priority. Shopify's App Store will give you an access to a number of extensions and apps that are available both in free as well as paid versions. All the apps are easy to install and definitely worth it.
WordPress is one of the most user-friendly platforms that will allow you to build any kind of website. It can range from a blogging website to an e-commerce store. All you need to possess is the required technical skills because WordPress's learning curve is much steeper than that of Shopify.
Support Services
In terms of the customer support services, Shopify has a clear edge over WordPress. With WordPress, a website owner is dependent on the community support and the various forums that are available online. There is nothing like an official support service. At the end of the day, it is all up to you as the issues or concerns have to be faced by you.
However, Shopify will give you an access to all the representatives or professionals that have a complete knowledge of the platform. As a user, whenever you are facing any kind of issue, these professionals will personally resolve the issue for you.
Conclusion
I hope from the above-mentioned points you will be able to differentiate between the two platforms. Both WordPress and Shopify have their own set of exclusive features. In the end, it will come down to the individual needs of the user and his business requirements.
Author's Bio: Kylee Brown is a Shopify Trainer by profession and Writer by hobby. She has been providing shopify training course in Singapore. She has done lots of creative works in the field of eCommerce Development. She has written multifold blogs and articles that present strategic designing, development and marketing tips for websites.
Posted In: