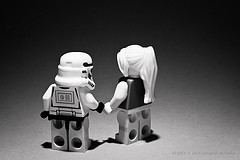 Web designing is a work of visual art, where colors play an important role in attracting a specific kind of audience. Each  color drives a particular emotion in humans. For instance green reflects healing and refreshing, yellow inspires people & make them optimistic, blue directs your mind to calmness and so on. That is why it is recommended to use appropriate colors for websites (keeping target audience in mind).
What about black and white websites? They are greatly popular among designers in many cases. The black and white designs have comparatively higher contrast. Especially when black text appears on white / light backgrounds it becomes fairly easy to read without putting much strain to the eyes. Aesthetically it is very pleasing to eyes, may be because we dream in black and white. It doesn't drive any unwanted emotion in the mind, so mind remains focused on the subject free from any distraction. Also any subliminal message hidden between the black and white graphics is comparatively stimulating to human sub-conscious. So here we present a few examples of black and white websites.
Hope you like and get some inspiration from these examples and acquired the psychology behind using black and white colors.