DoctorEssentials.co.uk serves as a reputable authorized distributor in the UK, specializing in renowned medical supply brands that offer Stethoscopes, Diagnostic sets, Thermometers, Blood Pressure Monitors, and an extensive array of medical disposables. With more than 18000 products, they provide an unrivalled service for all emergency medical needs. The goal of the website redesign for the owner of the website was to enhance the bottom line by generating revenues.
Niche: Ecommerce / Medical
As we started refreshing and revamping the website, we kicked off by crafting the wireframes to finalize the layout. Following this, we utilized professional tools to develop a design that exudes confidence and professionalism, while also enhancing the UI/UX to ultimately achieve the goal of boosting sales.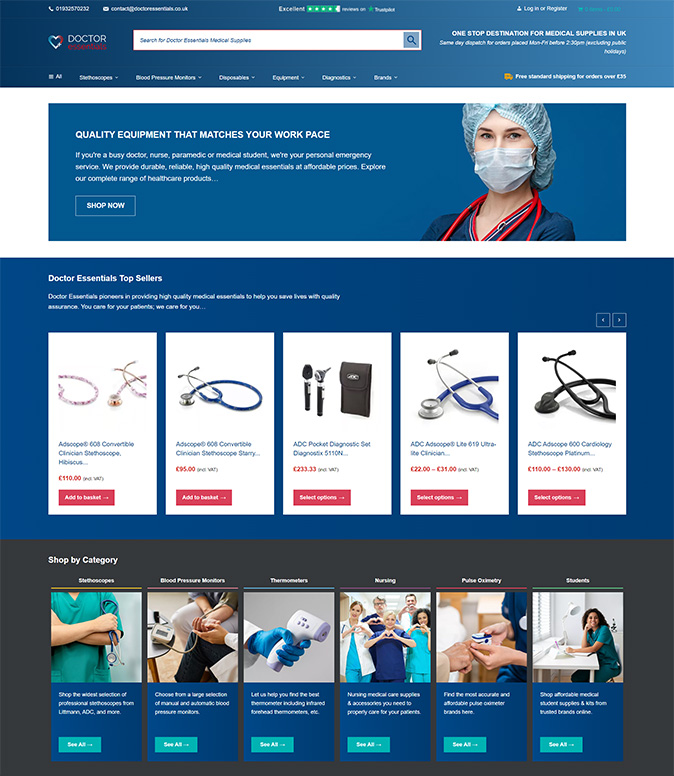 We had a e-commerce website that was slow, clunky and often times, non responsive. Luckily, I got to meet Shiv. He helped us temporarily patch up our website in order for it to function normally while we planned the site's total revamp. Once we gave Shiv the green light to start our website redesign, it became clear that we have chosen the right person to help us out. Shiv quoted us reasonable prices and he kept us in the loop throughout the development stage. More importantly, Shiv stuck to the planned schedule and delivered on time. Ever since the new website went live, we saw a 200% increase in our sales. Overall traffic and CTR increased as well. It was so easy to work with Shiv the we decide to keep him on a retainer for the monthly maintenance and troubleshooting of our website. If you are looking to work with someone who is good at his job, honest and fair, Shiv is your guy.

Sleiman Raad, Managing Director, Sterimed Medical Implants UK LTD
UI / UX Refinements
We re-designed the site for clean, elegant and professional look throughout the site. We paired beautiful imagery with exquisite typography and a color scheme that perfectly falls in line with the medical niche. To keep the site looking great across all devices, we are using a full width layout with stacking content elements which works equally well on desktop, tablet and mobile screens.
From Page Builder to Traditional Handmade Theme
The old design was powered by one of the page builders; quick work but not doing great on SEO front. We switched to the legendary yet robust Genesis Framework and the site started picking up in the search results all by itself. The new design has already increased the bottom line revenues by 2x; that too in just one month.
Google Adwords Ready
The website owner wanted to invest in PPC campaigns to drive sales. As such one of the pre-requisites was to make the site Google AdWords complaint. We had a follow up with the marketing team to ensure that we precisely meet all the requirements.
Ecommerce & Conversions
Ecommerce is all about the checkout experience. Landing pages, checkout pages, emails and post-checkout services all play a crucial role in the process. All these pages / views were meticulously designed to enhance the value of customer's acquisition journey.
Performance Optimization
The website is meticulously designed for aesthetics as well as speed & performance. We wanted the website to load fast, so the design is executed almost completely through vector icons & SVGs. The images and other resources are heavily optimized for desktop as well as mobile devices and the caching is taken care of by custom VPS hosting environment, Cloudflare and W3 Total Cache.
Improved Search Rankings & CTR
DoctorEssentials.co.uk is built to load fast and rank well. To boost the sales, the site was thoroughly optimized for search ranking and CTR, for the same we built a custom WordPress child theme which is Schema.org compliant and re-structured the content to follow HTML semantics. Throughout the process, we followed UI/UX and on-page SEO best practices.
Get in Touch
Want to discuss your ideas for a project or just want to say hi? Go ahead, we'd love to connect with you.
Please fill in the project details and we will get back to you within 12hrs.
Say Hello!
Based in Ontario, CA