Website Design for Law Professionals
Get started with a professional online presence that puts you on the front page of the internet!
Our Process for Law Firm Website Design
If your law firm needs a custom website design or a design revamp, we have got you covered. Our full service website design process is leveraged towards building successful online presence for your law firm.
We design and develop websites that generate leads and convert!

…and this is what matters the most…
With over 10 years of experience in this industry, we know exactly what goes into building successful websites for law firms. A great design is just the beginning. We take it to the next level with our well-structured and meticulously well-defined website design process.
Discovery
This is the starting point where we learn about your firm, practice and USPs. We also study your competitors to get a good overview of what works in your direct market. The market research comes in handy for placing you at the top of the search results! If someone is looking for a real estate lawyer in your city, we want your website to be their first and the only click!
Custom Design
The next step is to create a design that is visually impressive, has excellent user experience and converts well. The design phase will help you in finalizing the colors, fonts (typography) and layouts across various views of the website. We will collaborate and work together to build a creative design for your law firm.
Coding & Development
Once the design is finalized, we go ahead and covert the design into a fully functional website that not only looks good, but generates traffic to your website and converts your potential customers into paying clients. We also make sure that your website is optimized for hiDPI screens as well as mobile devices. We don't leave anything to chance — we plan and execute for your business success.
Quality Assurance Testing
This is the most crucial step in the process. Everything should look good to the eyes and everything should look good to the search engine bots too. Our websites are built on a solid foundation and in this phase we re-examine everything to make sure that there are no loopholes. We review the design implementation for best coding practices, semantic HTML, structured data and schema and mobile friendliness.
Site Launch & Post Launch Set-up
The site is developed on our development server and once everything is approved, we migrate the site to the production server. We give you the honor to make the site live — it's just a click of a button and your website is online. After the launch, our team once again takes over your website to configure caching, setup Google Search Console, integrate Google Analytics, optimize the website for page loading speed and everything that is required for optimizing the performance of your website.
Ongoing Support & Maintenance
Our process and relationship doesn't end with the launch of the site. We are right here 24/7, 365 days to offer any kind of support and maintenance required for the site. Better yet, make us your marketing partners and we will take care of everything to bring traffic to your website — Digital Marketing, SEO (Search Engine Optimization) and website quick fixes — we have literally got you covered!
Sample Features for Law Firm Web Design Projects
Over years of working with law firms, we know that to run a successful website in this niche, you need to have some of the following features on your website. If you are an attorney, lawyer or a law practitioner, these are the common features required for running a business website that generates leads & revenue.
Local SEO
to attract the customers based on your physical location
Case Studies
to present the portfolio of your law pratice
Testimonials
to share the good things that your clients say about you
Inquiry Form
to quickly enable the website visitors to "Request a Consultation"
Mobile Responsive
for optimal viewing experience across the portable mobile devices
Optin / Pop-up Forms
for growing your subscribers and email lists (potential customers)
Free Law Guides
to establish your value as a law practitioner
Landing pages
for presenting your USPs and offerings to your online audience
Adding Videos
for better user experience, engagement and conversion
Social media integration
for branding, promotions and marketing your online presence
SEO for law firm
for better ranks in search engine results
Membership Portal
for a complete set-up of membership website for attorney law firms
Our law-firm website design service puts you on the front page of the internet. Are you ready to handle more clients? Request A Quote
Our Featured Project
ProvidenceWillandTrusts.Com is a law firm website built for an estate planning legal firm owned by Zachary Setzer. Zachary Setzer is a Charlotte and Weddington Wills and Estate Planning Attorney. The major highlights of the website are high conversion landing pages, custom sidebars, free law guides (lead magnets) and fully mobile responsive design. Check out our case study for ProvidenceWillandTrusts.Com here →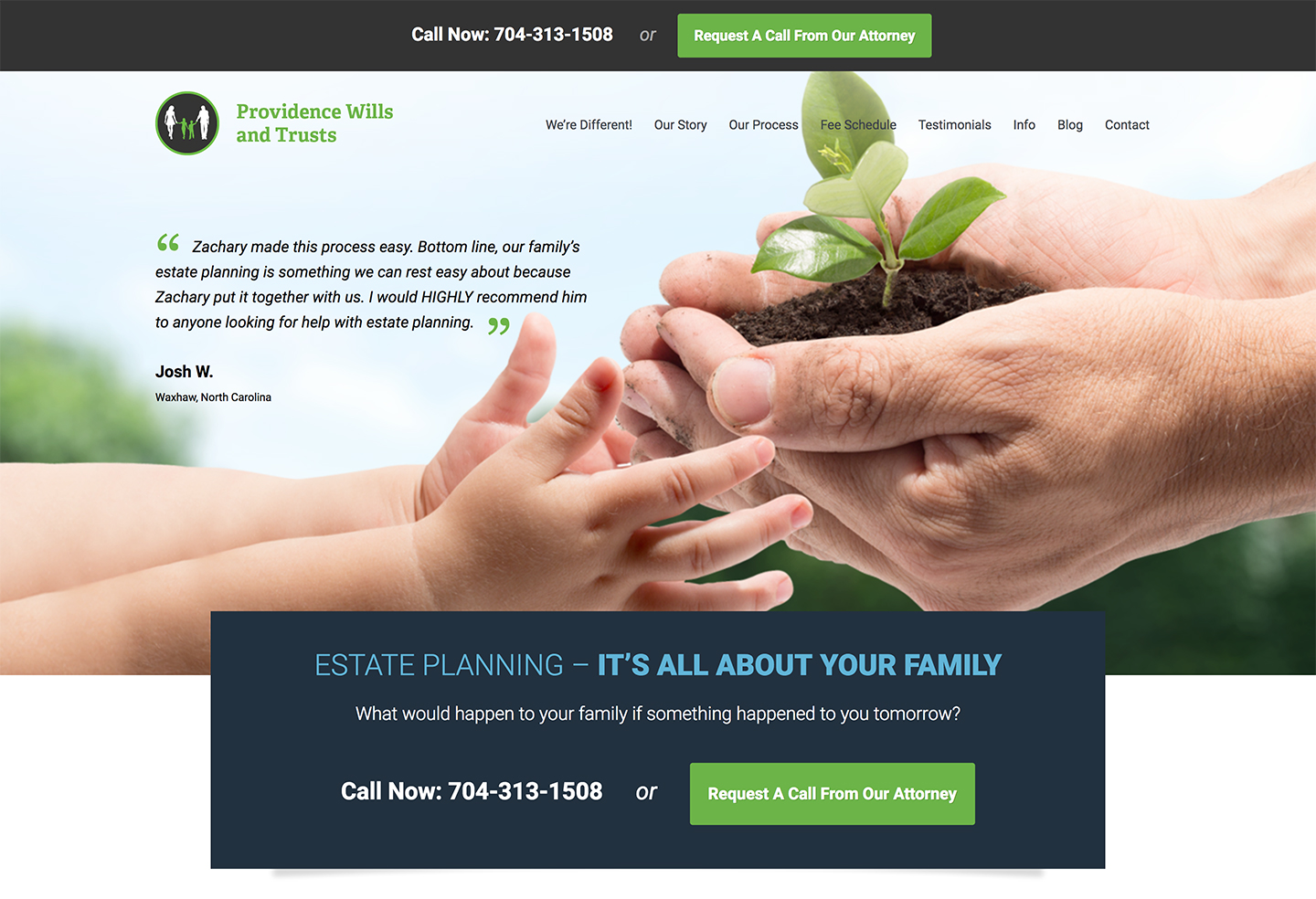 Wanna see more? Check out our post 15 Examples Of Staunch Professional Website Designs For Law Firms