Tony Rulli has been a special client for us. He approached us for PSD to Thesis 12 years back (for his travel blog), when we were just starting. He was so happy with the results that he approached us again when he wanted to start a website for his new business venture as Digital Marketing Agency.
Niche: Digital Marketing
Tony wanted a creative design for his digital marketing agency. We designed the logo, built graphic design and converted the same into a custom WordPress theme for him. They especially wanted a attractive blog design and we discussed back and forth to come up with what works best for their business.
Service: Full Service Website Design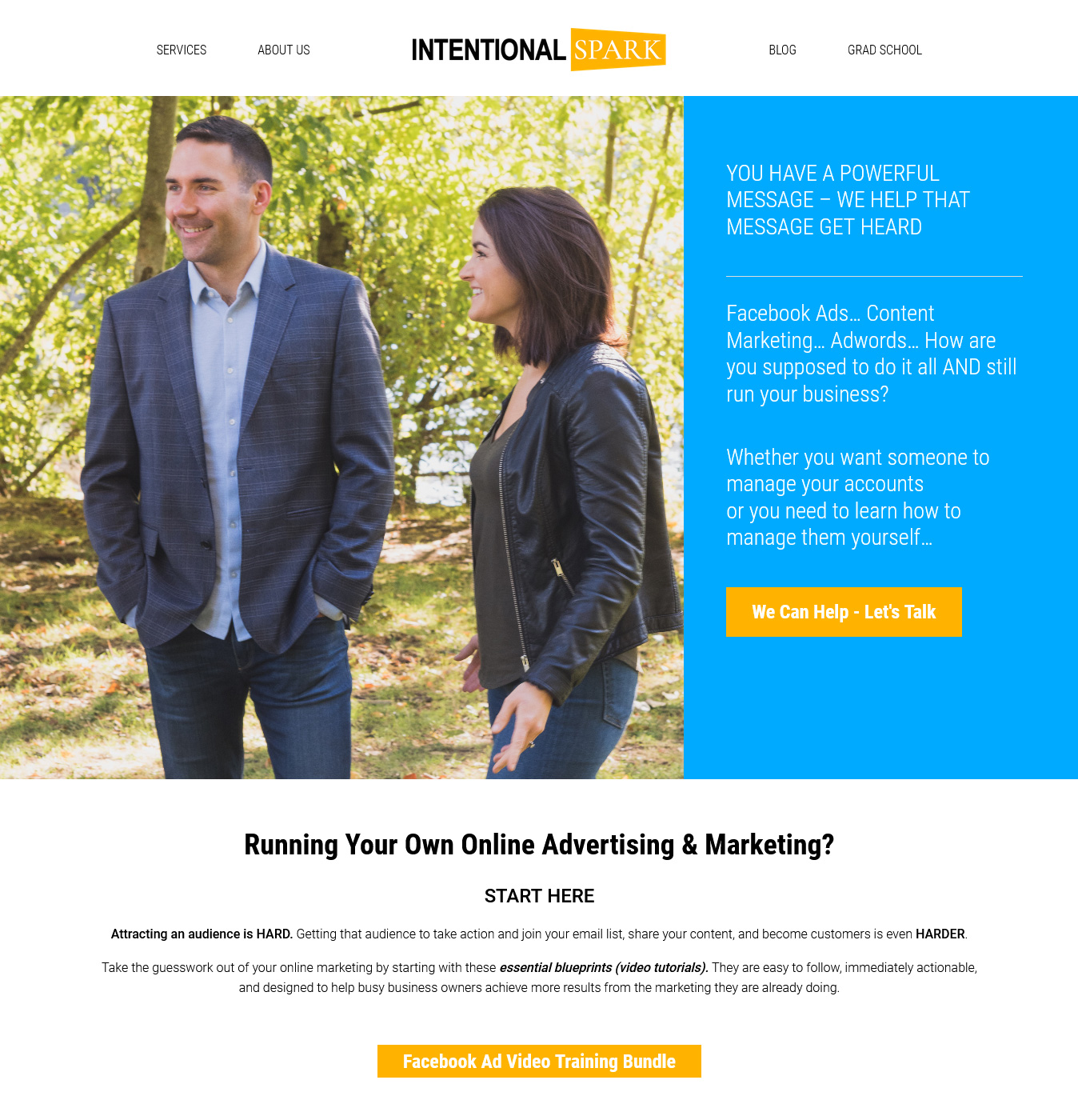 Thank you for being so easy and great to work with! The team at Convertica was truly a pleasure to create and build out the new website. They did a wonderful job answering our (endless :)) questions and managed a fantastic timeline.

ALSO – I would like to add that one area that really stood out to the team – the recommendations and explanations of steps and process were really helpful and assisted in minimizing our questions back to them. Thank you for all of your help.

Summer Setzer, IntentionalSpark, Digital Marketing Agency
Modern Design
We started with finalizing the color palette — we chose blue and yellow. The purpose was to portray the website as a digital marketing agency and at the same time they wanted to have a design that is distinct and unique in this niche. We finally came up with a design which creatively utilized the imagery and had a lot of white space to help the content and CTAs stand out.
Service Landing Pages
Each of the service landing pages has minimal design — relevant imagery / video, text and call-to-action. They also wanted to include a group consulting program to build the email list.
Unqiue Blog Design
This was the last piece of the puzzle 🙂 They wanted to have a unqiue blog design. They had internal team meetings to finalize what they wanted the blog to look like. On the blog page, they wanted to have a featured story right at the top, followed by blog categories and then the regular blog posts. They sent over the designs they admired and were finally happy with the implementation.
Get in Touch
Want to discuss your ideas for a project or just want to say hi? Go ahead, we'd love to connect with you.
Please fill in the project details and we will get back to you within 12hrs.
Say Hello!
Based in Ontario, CA