Ellie Kempton, the founder of SimplyNourishedNutrition.com wanted to start a membership platform for VIP clients along with an e-commerce store offering products to members only.
Niche: Nutritional Food + Healthy Lifestyle
We modernized the design, developed the membership portal and an e-commerce store, and refactored much of the underlying code for better conversion and improved performance.
Service: Website Design For Registered Dietitian & Nutritionists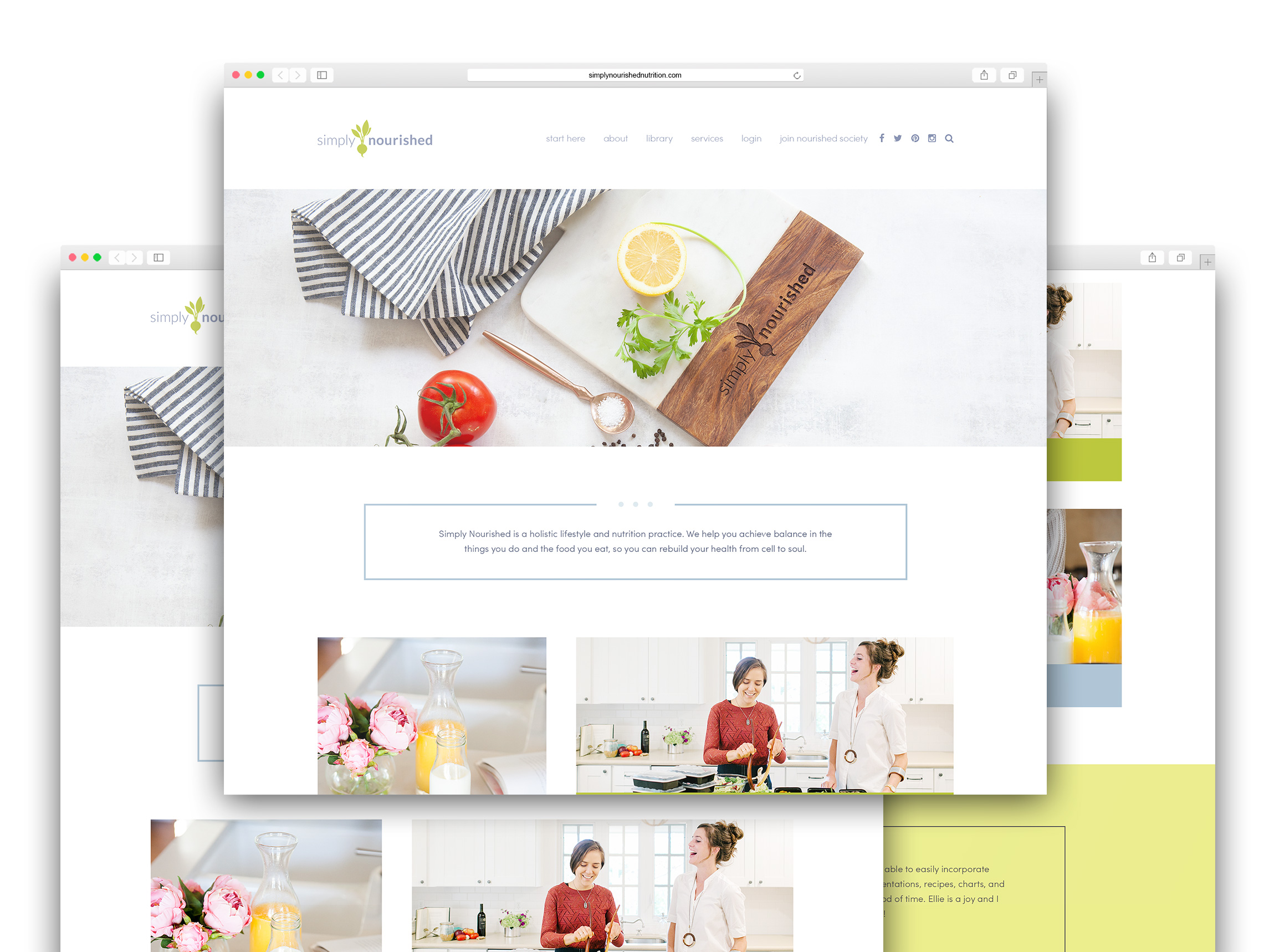 Having worked with 3 other developers before working with Shivanand I can say with full transparency and confidence that he is a rare find. Communication is absolutely key for me in working with any website designer or developer and Shivanand's email communication especially has been incredibly organized and thorough.

The work he and his team produced has proven to be a beautiful reflection of my vision. As a functional dietitian, I crave a space online where my clients find simplicity, answers and community. The website he produced for me has struck a balance of all three.

Shivanand is also very good at listening. I have proposed some very complicated tasks and his team has been able to creatively engineer what I've needed to bring my business to fruition. I'm delighted with the website I now have and my clients always comment on how beautiful it is reminding me what an intentional reflection it is of the purpose and passion I bring to my work.

Thank you Shivanand!

Ellie Kempton, MSN RDN Simply Nourished Nutrition,
SimplyNourishedNutrition.Com
UI / UX Refinements
We re-designed the site for clean, elegant and consistent look throughout the site. We paired beautiful imagery with exquisite
typography and a delicate color scheme. To keep the site looking great across all devices, we are using a full width layout with stacking content elements which works equally well on desktop, tablet and mobile screens.
Membership Platform
The website features a member's area which can only be accessed by VIP clients. The members can access premium content (video sessions, audio sessions and downloadable resources) dripped each month. The membership platform also intelligently restricts member's access to past content. [Plugins used: Restrict Content Pro]
Dedicated e-commerce store for members
The membership platform restricts member's access to past content and the same is available for purchase via e-commerce store. Only the premium members can access this store and get exclusive discounts for purchasing the past content bundled as downloadable products. [Plugins used: Easy Digital Downloads]
Beautiful Landing Pages
The website features several landing pages, each designed for a specific purpose. The Homepage presents a complete overview of services & programs, Start Here page is optimized for opt-in form and 1:1 Mentorship page is a dedicated services page with appropriate pitch and call-to-action.
Performance Optimization
The website is meticulously designed for aesthetics as well as speed and performance. We wanted the website to load within 2 seconds, so the design is executed almost completely through vector icons. The images and other resources are heavily optimized for desktop as well as mobile devices.
Improved Search Rankings & CTR
SimplyNourishedNutrition.Com looks great, loads fast and ranks well. To keep up on search ranking and CTR front, we built a custom theme which is Schema.org compliant and re-structured the content to follow HTML semantics. Throughout the process, we followed on-page SEO best practices.
Get in Touch
Want to discuss your ideas for a project or just want to say hi? Go ahead, we'd love to connect with you.
Please fill in the project details and we will get back to you within 12hrs.
Say Hello!
Based in Ontario, CA