Maryann was running a successful health and nutrition blog for several years. With the idea to promote her books and blog, she wanted to get started with a professional website which looks great and works great. Her journey with Convertica started with a mini weblog build for a new year resolution. Since then we have worked on several projects together.
Maryann Jacobsen is a family nutrition expert. After years on blogging she wanted to start something that will give her a professional identity as an independent nutritionist and an indie author. This is how MaryannJacobsen.Com came into being.
Niche: Family Nutrition Expert
MaryannJacobsen.Com is powered by Femme Flora, one of the Genesis child themes designed by Convertica Consulting. She has a wonderful blog. She also sells books and ebooks via her website and she also hosts podcasts.
Service: Website Design For Registered Dietitian & Nutritionists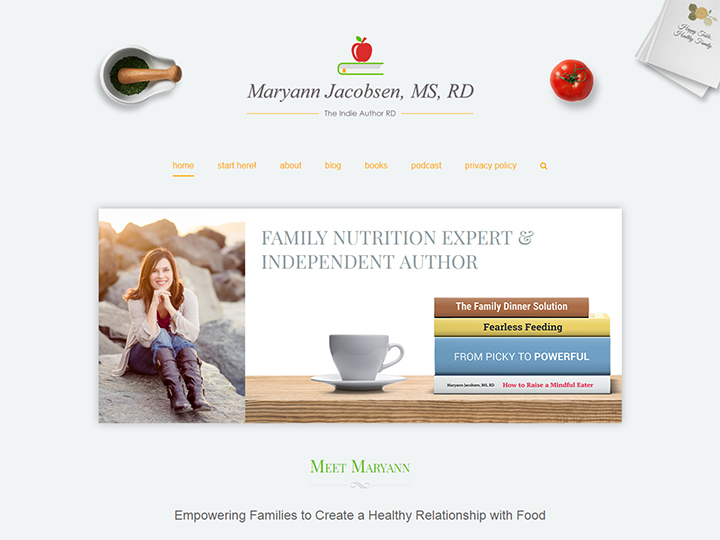 Through an online search, I found Convertica when my site was down and had nowhere to turn. Not only did they fix it an hour, but they charged me a very reasonable price. So when it came time to create a second blog, I knew they are the best people for the job. Their team is incredibly tech savvy, easy to work with and very responsive to questions and changes. I will continue to recommend Convertica!

Maryann Jacobsen, MaryannJacobsen.Com
Get in Touch
Want to discuss your ideas for a project or just want to say hi? Go ahead, we'd love to connect with you.
Please fill in the project details and we will get back to you within 12hrs.
Say Hello!
Based in Ontario, CA