Thesis 2.1 powered GetMoreMomentum.Com holds a special place in my portfolio. Killer design, exquisite landing page and confident typography contribute to the success of this design.
Niche: Marketing
GetMoreMomentum.Com is one of the best designs in my portfolio and I must admit that I have gained a lot of eyeballs and new clients due to this design. 6 unique templates, fully responsive Thesis 2.1 skin, awesome landing pages and a contrasting color scheme — all these factors unite together in making this design stand distinct in my portfolio.
Service: PSD to WordPress [Thesis 2.0]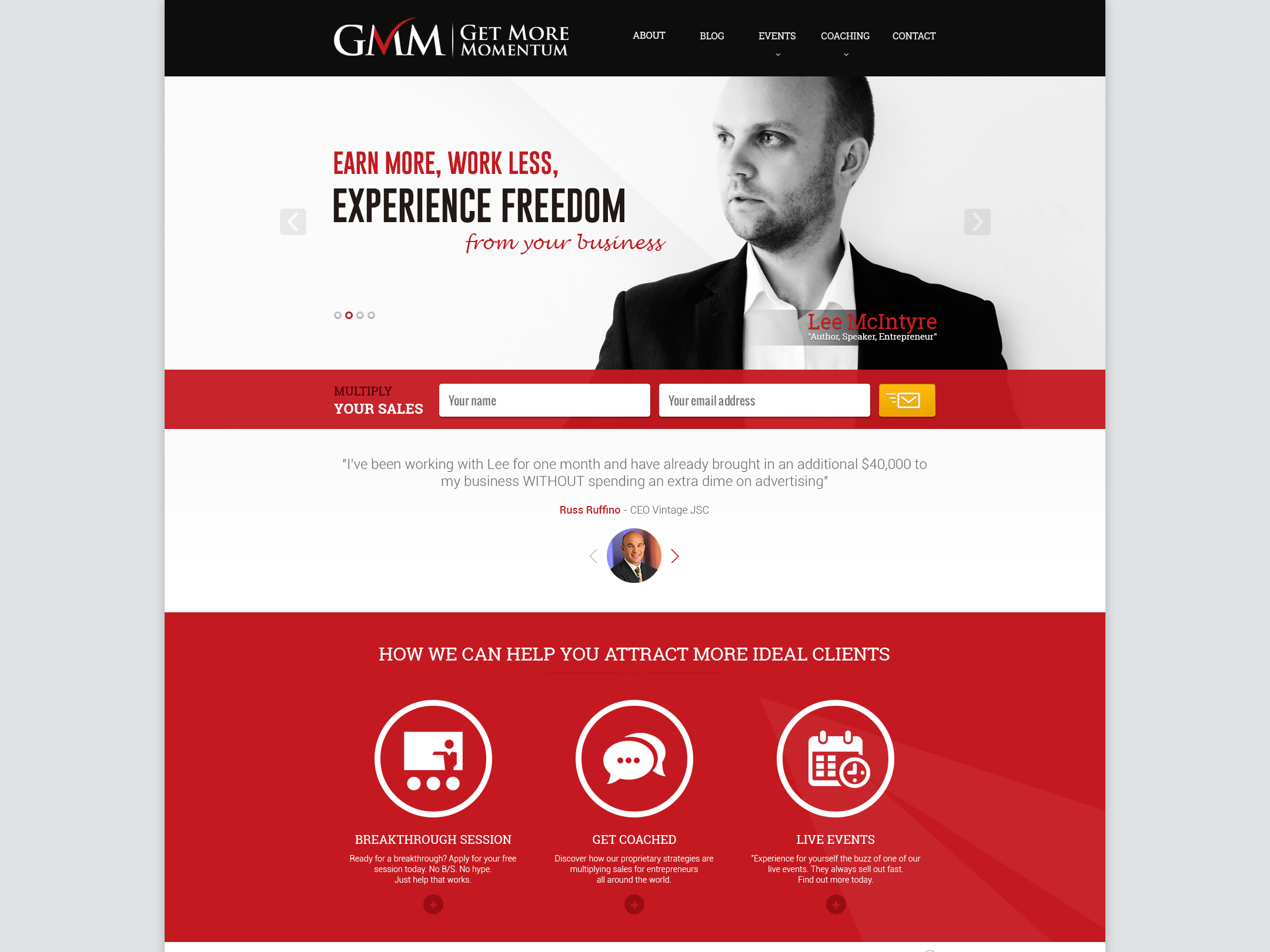 I've been marketing my services online for over 7 years. During this time, I've worked with dozens of developers, and like most entrepreneurs I've experienced a LOT of disappointment. However, this all changed when I started working with Shivanand and Convertica.

The quality of their work was excellent and the communication was outstanding. They were professional throughout and took great pride in their work. And they OVER-DELIVERED on every element of the project which is why I now recommend them to all of my clients.

If you want poorly completed work, then go elsewhere. If you want the BEST then I highly recommend you immediately hire Shivanand and Convertica today. They get my highest recommendation!

Lee McIntyre, GetMoreMomentum.com
GetMoreMomentum.Com was a
website redesign project
, basically
PSD to Thesis 2.1
conversion requested by Lee McIntyre.
About the Client — Lee McIntyre
Lee McIntyre, founder of GetMoreMomentum, is a marketing strategist and consultant who offers various training programs focused on client attraction strategies. The purpose of GetMoreMomentum.Com was to thus generate more leads with the new design (optimized for building the list through opt-in form).
GetMoreMomentum.Com — PSD to Thesis Theme Conversion
GetMoreMomentum.Com was a PSD to Thesis theme conversion project. The client, Lee McIntyre, handed over 6 unique templates designed by CrowdSpring.com to me with a deadline of 5 days for a pixel perfect conversion. And I must say, Thesis 2.1 was a perfect choice for this kind of a project — 6 unique templates in a span of 5 days.
The design conversion for this site was a matter of carefully arranging thesis boxes. Yes, careful arrangement, because there is no undo button in Thesis 2 template builder. It just takes one wrong step to ruin all the fun while working with Thesis 2.
Nonetheless, building GetMoreMomentum.com on Thesis 2.1 was a great learning experience. Creating Thesis 2.1 skin from scratch, re-using boxes, usage of query box, dynamic hooks, creation of new templates, experiments with copying the templates, playing around with skin display options & color scheme panel and hands on experience with Thesis 2.1 SEO settings prepared me for just about any kind of Thesis 2.1 project.
Special Features of the Website
This project was more about design elements (multiple layouts, awesome typography, etc). With respect to features and functionality, the website had all the regular features like:
Newsletter opt-in form.
Contact form.
Testimonials slider.
Conditional sidebars.
Social media sharing along with ability to mail and print the post.
Author box.
Pagination.
Responsive Design.
Some of the distinct features of this design are:
Unique Header Image (on per page basis): Thesis 2.1 skin for GetMoreMomentum.com provides the ability to set a unique header image on per post and per page basis. This feature was achieved by utilizing the power of custom fields so that the user is able to set a unique header image from the post editor itself (or in other words without touching CSS).
Multiple Landing Page Templates: The website features multiple landing page templates — one each for home page and various services & offerings. While the template for home page is unique, all the other landing page above the section folds are coded by utilizing WordPress custom fields to have unique content above the fold layout.
And finally, like all the websites delivered by me, the site was tweaked for SEO settings. Google Analytics integration, Google (and Bing) Webmaster tools set up, configuration of SEO and performance based plugins,etc are a part and the parcel of every website designed and developed by me.
The Final Words
The project concluded with the successful launch of GetMoreMomentum.Com. It was wonderful working with Mr. Lee McIntyre.
Get in Touch
Want to discuss your ideas for a project or just want to say hi? Go ahead, we'd love to connect with you.
Please fill in the project details and we will get back to you within 12hrs.
Say Hello!
Based in Ontario, CA