London Business Training & Consulting is management courses and business training provider in London, UK. LBTC started as a simple course catalogue website and over the time it has evolved into a comprehensive website which has become an identity for its business. In it's latest iteration, the website was revamped for enhancing the user experience and addition of ecommerce feature. The website is powered by WordPress, Easy Digital Downloads and Stripe for payment processing.
Niche: Business Education
LBTC offers 600+ management courses across 16 subject categories and the website presents this information in a clear and crisp form. Content architecture, organization and classification plays an important role in presentation of information. And there is a series of search filters and sorting functionality to enable to website visitors to easily find the information about the courses they are planning to enrol for.
Service: Custom Website Design & Development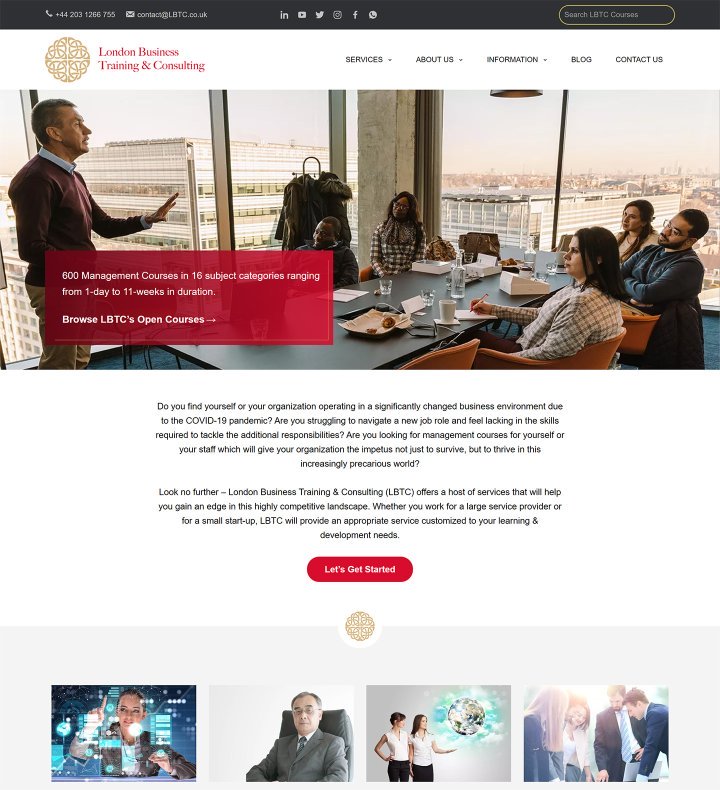 This website is a work of art! It is truly amazing what you have managed to achieve here. I am astounded at the quality of what has been delivered. Thank you!

Rohit Chandiramani, Chief Executive Officer, London Business Training & Consulting
High-end professional business design
The process started with building wireframes and the design was meticulously designed in Abobe Photoshop and Illustrator to finalize the color scheme, typography and overall user experience. The custom design truly reflects the brand indentity of LBTC.
Sound Content Architecture
The content architecture was successfully accomplished by defining custom post types, taxonomies and custom fields to enable presentation of information in a systematic manner.
Sorting, Searching, and Filtering of Courses
The website features 600+ courses. It is of utmost importance that the website users are able to search, sort and filter the courses to easily find what they are looking for. Jquery Datatables were employed to create highly interactive data tables.
Customized Booking Form
Each course page includes a centralized booking form which automatically populates the course details and integrates with the checkout process.
Improved Search Rankings & CTR
LBTC.co.uk is built to load fast and rank well. To keep up on search ranking and CTR front, we built a custom theme which is Schema.org compliant follows HTML semantics. Throughout the process, we followed best on-page SEO practices.
Get in Touch
Want to discuss your ideas for a project or just want to say hi? Go ahead, we'd love to connect with you.
Please fill in the project details and we will get back to you within 12hrs.
Say Hello!
Based in Ontario, CA