Erin Skinner was running a website powered by Squarespace. She was not happy with her existing website and was looking for re-branding / design revamp. She basically wanted to improve the user experience (lower bounce rate), increase conversions (by providing freebies that lead into the sales funnels for online course funnel) and promote her podcast.
Niche: Functional Medicine Nutritionist
As a part of website refresh and design revamp process we started with creating the wireframes, followed by graphic design. Once the design was finalized (the color pallette, typography and overall look and feel), we implemented the same to WordPress. From flexibility and extensibility point of view, we switched her site from Squarespace to WordPress.
Service: Website Design For Nutritionists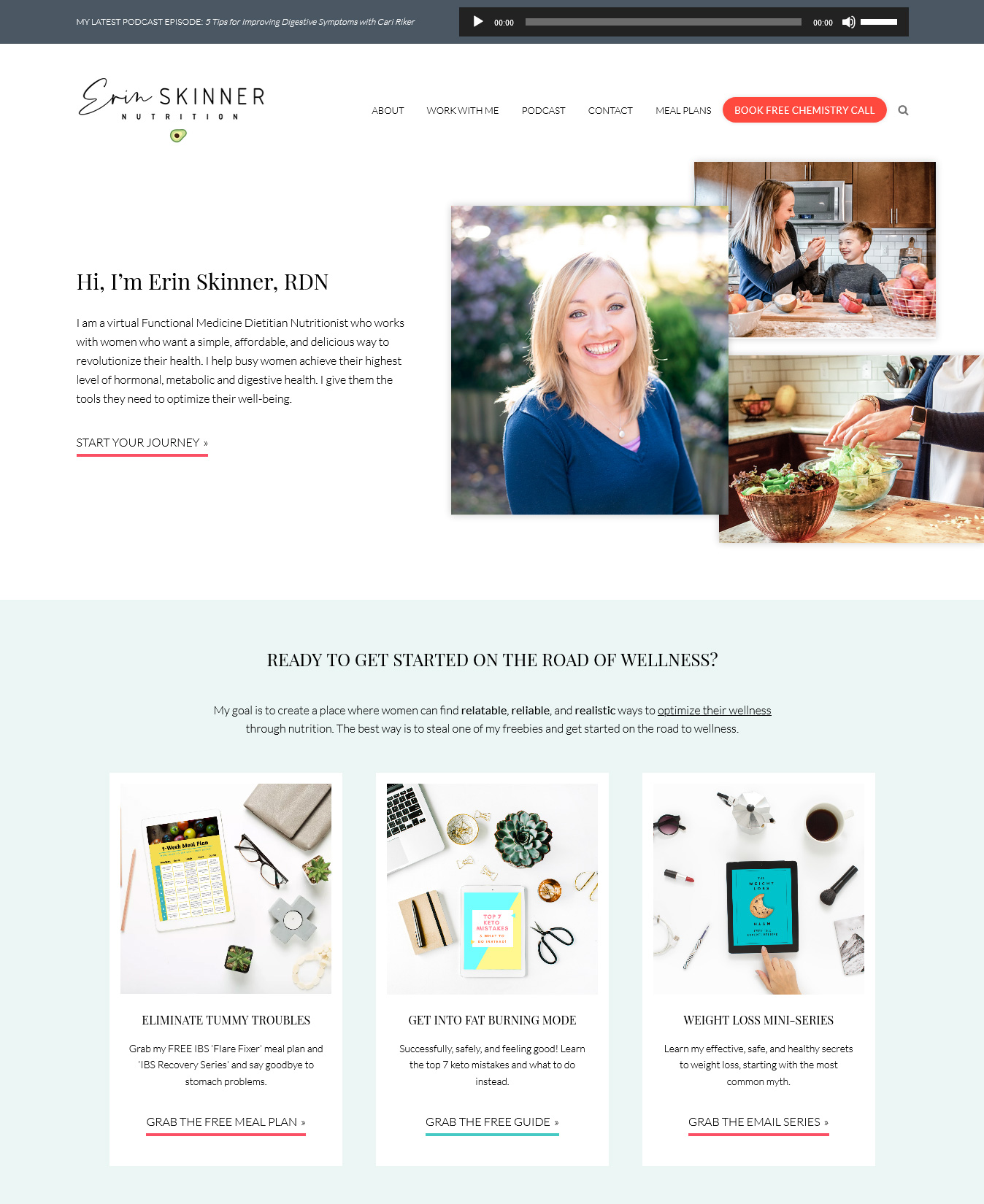 Working with Shivanand has been absolutely incredible. He was extremely easy to work with from across the world and the quality of his work is incredible.

He took my old, outdated website and skillfully created a gorgeous, new, high-performing website. He is timely and extremely patient. His attention to detail is perfect. My only regret is putting this project off for a few years. I simply didn't think I could find someone who could do it to my standard, but Shivanand proved me wrong. I would never hesitate to hire him again, or to recommend him to anyone that I know. Thank you, Shivanand!

Erin Skinner, MS, RD, IFNCP, Rocklin, California, ErinSkinner.Com
UI / UX Refinements
We re-designed the site for clean, elegant and consistent look throughout the site. We paired beautiful imagery with exquisite
typography and a delicate color scheme. To keep the site looking great across all devices, we are using a full width layout with stacking content elements which works equally well on desktop, tablet and mobile screens.
From Squarespace to WordPress
We switched Erin's old site from Squarespace to WordPress. This includes migration of all the content and media files from Squarespace to WordPress. It was easy to export the content from Squarespace to WordPress via XML file, however it required manual intervention for cleaning the HTML markup for better semantics.
Set-up for Podcasts
Promoting the podcasts was one of the primary ideas behind Erin's new website. She was using Libsyn for hosting her podcasts. We integrated the same with WordPress and created custom post type to help her easily manage the Podcasts in WordPress.
Freebies, Sales Funnel, Conversions
The new site was built from ground up for providing freebies that lead into the sales funnels for online course funnel. The website backend was meticulously designed to simplify the process of adding the freebies and connect the same to the sales funnel.
Performance Optimization
The website is meticulously designed for aesthetics as well as speed & performance. We wanted the website to load fast, so the design is executed almost completely through vector icons. The images and other resources are heavily optimized for desktop as well as mobile devices and the caching is taken care of by our premium hosting environment.
Improved Search Rankings & CTR
ErinSkinner.Com is built to load fast and rank well. To keep up on search ranking and CTR front, we built a custom theme which is Schema.org compliant and re-structured the migrated content to follow HTML semantics. Throughout the process, we followed on-page SEO best practices.
Get in Touch
Want to discuss your ideas for a project or just want to say hi? Go ahead, we'd love to connect with you.
Please fill in the project details and we will get back to you within 12hrs.
Say Hello!
Based in Ontario, CA