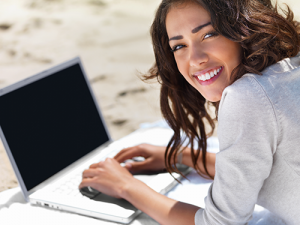 In spite of running dry of new ideas, you have tried hard and finally created a unique post rich in valuable content. But after the publication of your hard work, if there are no comments, no tweets, no sharing and very low traffic, your post lacks something vital. Instead of getting frustrated or depressed, try out these 11 simple steps and make your posts interesting like never before.
Give A Snappy Title

Giving a catchy title to your post will grab the attention of your visitors and make your post sound interesting and useful. "How To" or "Numbered" posts are never out of style. Make the post look like a mini, step-by step tutorial that is desired by most readers who do not wish to dedicate much time and effort in reading long posts.

Include Complimentary Images

Human eyes can interpret images more easily than they can read words. A strong image that portrays the theme of your post, paired with a deep caption of 2-3 lines about it's approach will give a new dimension to your post. Add a thumbnail smiling photo of yours to welcome the post's visitors and add a few aesthetically appealing and relevant images to pep the content.

Write Striking Opening Lines

The introductory paragraph of your post should give a concise but clear-cut idea about the post. It should arise the eagerness of the reader to know what lies further in the post and read on. If this is not the case, the visitors will not bother to read the subtitles even, leave alone the whole content.


Subtitles Are The Backbone Of Content

These one-liners define the whole purpose of the paragraphs that they incorporate within themselves. Therefore, subtitles have to be utterly interesting, precisely informative and highly intriguing at the same time. Just like the title, subtitles have the capacity to transform a scanner into a reader and engage him to go through the whole paragraph.

Valuable Content Is A Must

The content of the post should honestly deliver what the title and subtitles promise to the visitors. The tone and language of the content should be professional yet friendly and should reflect your unique style of writing. Difficult, poly-syllabic words and grammatical errors should be avoided and punctuation marks should be placed accurately. The content should be precise but usefully informative. It is better to use the inverted pyramid style for a writing content which means that you should write the conclusion first and then  move on to expand it.

Include Expert Quotes

People admire the work and words of great people. Include quotes from great masters to interest and inspire the visitors.


Use Short Sentences

The sentences used in your post should be short, conversational and concisely meaningful. A paragraph should not contain more than 2 to 3 sentences.

Use Bullets And Numbering

Break your subheads and sentences into bullets and numbers for enabling the visitors to easily distinguish between them. Turning your sentences into points will make your post more organized and readable.

Break Long Posts Into Series

If the topic you wish to cover incorporates a lot of information, your post might become very long and tiresome for the readers. Break the entire article into a number of series and inter-link them. Don't forget to give an idea at the end of each series about what the upcoming series will hold. This will make the visitor eager to wait for the next series.

Provide Useful And Relevant Links

If your post contains keywords or phrases which further need an explanation, provide the relevant links (internal or external) so that the visitor understands each and every concept of your posts in detail. Your linking strategy has one more benefit. It will discourage the foxy blogger to copy your content and even if one tries to copy your content, he will end up with distributing your internal links.

Interact Personally With The Visitors

A personal interaction with your visitors is something that nothing else can outnumber when it comes to attracting traffic. Answer the questions which the visitors ask in the comment section. Thank them for their feedback and suggestions and provide links to authentic sites to prove your points in case your visitor has a doubt. This will immensely increase the creditability of your blog and ensure the visitor's continuity in future.

Personal Interaction
How do you make your posts interesting?