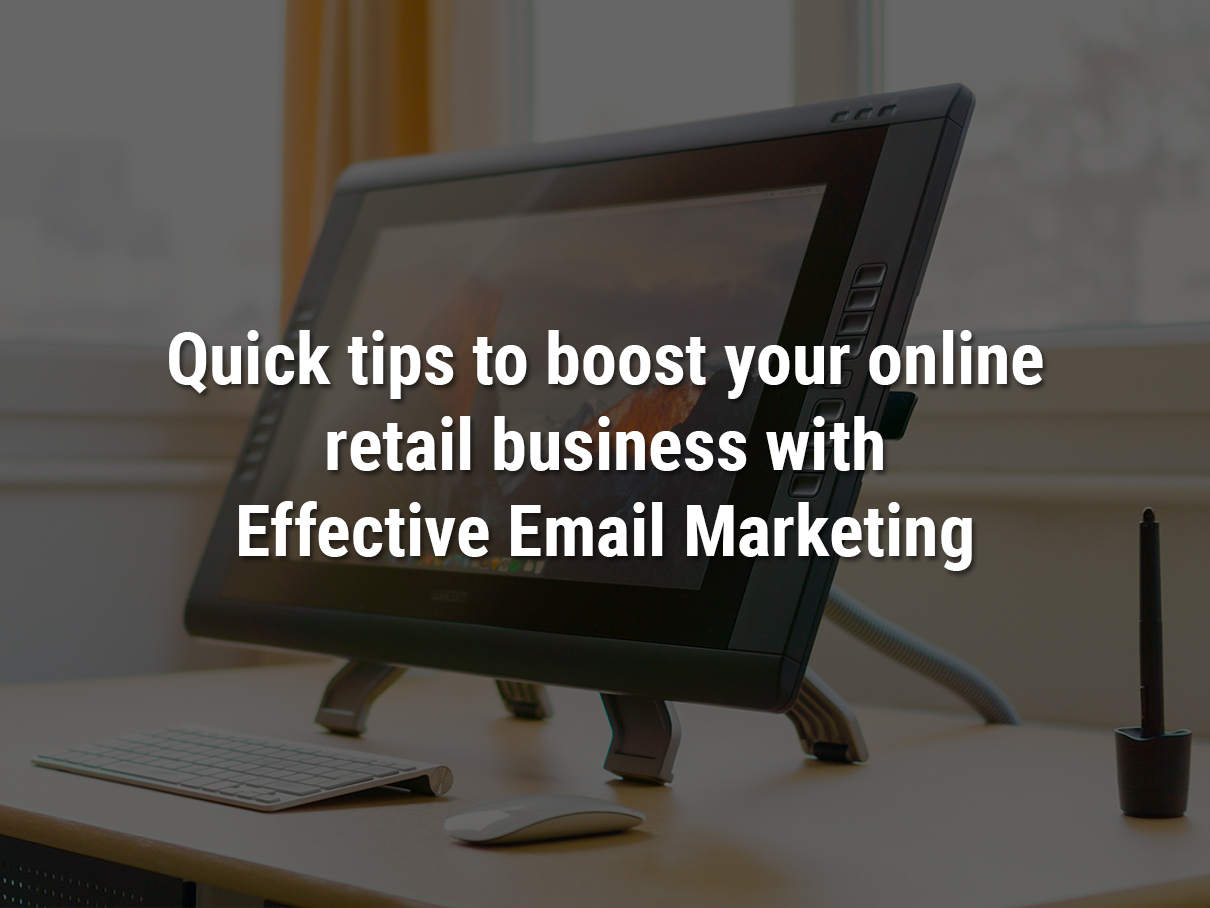 In terms of seeing a high return on investment, email ranks near the top – if not the top. It is one of the greatest returns for the least amount of invested time, effort and money. And to make the most of it, email marketing needs to be highly effective. The emails need to be carefully crafted and targeted in order to reach their most receptive audiences and have the greatest impact possible. When you know and understand the benefits of email marketing, you'll be able to effectively utilize it to boost your online business.
Even if your business is held within a limited budget, using email is one of the most inexpensive ways to market yourself. Creating an account is generally free, and low-cost services such as MailChimp allow you to create professional-looking designs. In fact, email is so cost-effective that when done properly it can be as much as 20 times more cost-effective than any other standard marketing outlets.
So here are some quick tips for getting started with highly effective email marketing:
Keep the branding consistent
With all of the customizable features available in email services and other message creation programs, you can easily brand your emails to fit the visual look and feel of your overall branding. Branding is an important part of differentiating yourself from the rest. It reinforces the connection customers have with you and your brand. With consistent branding across the email messages, the customers opening the emails feel comfortable and are able to relate with your brand.
Consistency in your written content is important too. As a brand, you may want the same voice to come through in all of your messages. Writing services such as Revieweal can help you put forth a consistent voice that speaks for your brand.
Optimize for mobile devices
An ever-growing number of people are now using their mobile devices to check email – in fact, 88% of millennials are already doing so. Because of this, it's absolutely essential to optimize your messages for mobile viewing.
If your recipients are unable to open your email on their phone on the first attempt, it's highly unlikely they will make a second attempt or wait until they are on a computer to try again. And, if your message is too difficult to read or navigate on the screen of their phone, they will more than likely abandon it.
Make sure that the calls to action are clearly highlighted; button are generally better than links for call-to-action. And, these calls to action should ideally be above the fold, meaning there's no need to scroll down in order to see them. Allowing customers to easily make purchases or opt-in for services from a mobile device is also a highly effective way to increase your online retail business, because they will be able to act immediately and complete their purchase directly from their phones. One good example is an accounting software from QuickBooks which helps you complete transactions quickly and effortlessly.
Targeted Marketing
It's not just enough to send out mass messages and hope for the best. Email marketing is at its most impactful when it's highly targeted and directly addresses the needs of the person reading it. If it doesn't speak directly to their needs, it won't have the desired outcome.
Divide and target your email database according to whatever categories are relevant to your business – whether it's demographic information, purchase history or something else. When readers continue to receive messages that are relevant to their needs and interests, they are more likely to respond positively and remain subscribers. However, neglecting to do this means you are sending out messages that are irrelevant to their direct needs and thus you're more likely to see higher rates of unsubscribers.
Customize the content
After you've collected information about the members of your email database, it's easy to segment them into groups for current and future use. Depending on the message you're sending out, you may want to change the parameters of who will be receiving the message. You wouldn't, after all, want to send an invitation to an in-store sale to customers who live 2000 miles away – it would only disappoint them to learn that they would have a long way to travel to take advantage. These customers, on the other hand, would definitely be interested in online promotions you're running.
Track the results
In order to know if you're doing it right and if you need to do some changes and improvement, you should be tracking the analytics of your email campaigns. Nearly all email services provide you with this valuable information. The analytics tells you everything from who didn't open a specific email to the resulting sales from any given campaign.
Testing messages can give you a better idea of what works — which subject lines are most effective and which messages get the maximum positive responses.
Email marketing can be an incredibly effective retail business tool when used to its full potential. These tips will help you in unlocking the power held within your email database. Create impactful messages, send to the target audience and measure the impact it makes to your bottom-line revenues.
Author's Bio: Rachel Summers has been a social media manager for seven years, working for a variety of companies, both big and small, a leading custom writing service. In her freetime, Rachel also helps and advices a variety of small and start-up businesses on their social media strategies.