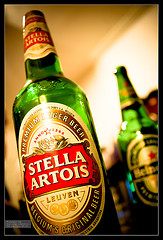 If you are starting a blog or already using one advertiser, here's a list of some options that you have as a publisher. The fact is that you shouldn't put all your eggs in one basket. Having a publisher account with one provider is great but there are several reasons you should have a fall back. At times you may find that one advertiser doesn't have any products to advertise on your site. At other times you may see one advertiser temporarily stop advertising since they have exhausted their budget. Also, (though rare and unfortunate) just in case you are declined by one advertiser you must have an alternative at hand. Here's a short list of the most popular ones out there. Personally I use Google AdSense on my several sites and blogs that I run, the fact is that one size doesn't fit all. One may work better on site that review products while the other on sites that carry news or technology forums.
Chitika is one popular monetization option for bloggers these days. Chitika serves more ads related to products than services. Thus it works best if you have a site pertaining to products or product reviews. One constraint is that though Chitika supports contextual advertising, it must not be placed along Google Adsense in the contextual mode. This is because of certain AdSense policies. Now Chitika code serves ads in a non-contextual mode by default. Chitika has been releasing a lot of various products and programs for publishers lately and is also a popular alternative to Google AdSense.

Google AdSense is a clear cut above the rest. That's because of the brand image, defined processes, support and functionality. AdSense serves contextual ads. Thus only those advertisements are served which directly or indirectly relate to the content of your site. Google AdSense is a popular choice of bloggers and even several organizations.

Amazon Associates

Amazon Associates is more or less like Chitika Ads. The advertisements pertain to products. You can even create an online store to showcase Amazon products.

Text Link Ads

Text Link Ads are not the most user-friendly ads out there. Another example of contextual advertisements, text link ads link themselves to certain keywords in your content. When a visitor hovers over them, advertisements are shown in an inline popup. This sometimes tends to irritate visitors or mislead them.
What is that one thing you could add to this list?