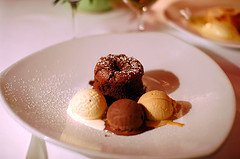 Let's turn your blog into a restaurant. How does that help you? The idea is to help you post at least once everyday. Well you can't learn to swim without getting wet. And while I'm wet, I may as well share my learnings. As a blog author you'd be aware of The Dirty Little Secrets of Productivity Blogger. While I'd confess it is true to the word, you are not alone and certainly not without help. Here's a short plan to last you through the week. And with that achieved, you'd never have to hunt for post ideas – not once in a year.
Turn your blog into a restaurant
Have a special dish of the day
You have five days in a week, maybe six if you are a nerd
You'd need at least five specialties in your menu which will serve your visitors each day.
Savvy? You don't have to hunt for ideas now. Given you stick to this schedule, you'll have ideas buzzing out your brain – all you wanted was food for thought.
To get started here are six kinds of posts you can schedule for each day in a work-week.
Post a "how to"

This helps your visitor community. You are looked upon as a how-to guru and an expert. You are helping your visitors achieve something. In turn you will also be approached with support requests and be seen as an adviser.

Post a news item

While this will keep your visitors updated, it will force you do do your homework and that is to do the reading. You can't blog as an island. You need to be in touch with the latest. Post about an item doing the news. This will get you some search engine traffic as well thus new visitors re/searching the particular news item.

As a blog author this will help you develop your perception and voice and establish authority in the blogosphere as a blogger with a perception. Most successful bloggers have a perception and having a perception about anything and everything is a good tool to be equipped with. As a developing and a long term blogger it is of utmost importance to develop a perception and thus a foresight (a slower process) that shall help you envision future and goals and likely outcomes.

Tips day

Share your tips about something. When you are doing such a countdown, your post has higher chances of making it to Digg or StumbleUpon for that matter. Such bulletted and precise posts certainly hook your readers. They are scannable, don't waste the casual visitors' time or bore them and are valued as much as instant-coffee.

Post on a weekly/periodic feature like an interview or a featured item

I don't believe in horoscopes, but I certainly miss them if I miss a day's newspaper. I'm sure you have a favorite regular feature in your magazine which you jump to before you open up the magazine's index. This is also to a large degree like spoiling your visitors;  call it pampering if you like. With time you'll develop a certain category of visitors who may not care for anything else you write but will visit your blog every Wednesday to read this feature.

Weekly links

Post your picks of the week from your own blog, other blogs. This is like summarizing your blog's happenings, your favorite links and the likes. This is a collection of prized items which visitors can't read at once or in a single session. They will bookmark it, subscribe to your RSS and star the post to come back to it and read when their kids are sleeping.
That said, I see this as a balanced diet for your readers and your blog and you as a blogger. What's your say?