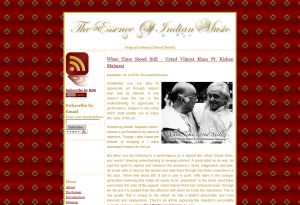 I purchased a developers license for Thesis theme for wordpress. I had earlier written a post about the theme Thesis WordPress theme – a critical take earlier which drew a lot of reaction and criticism – criticism as it was itself. Those who have been following this blog for sometime now, know that I run another blog The Essence Of Indian Music which I post to once in a while (since the blog is more art and hobby oriented). While I was criticising the Thesis theme I received a lot of comments which spoke high of the theme. Thus I thought of giving it a try.
Being an art and music oriented site, I had hand-coded a theme for it and named it "Royale". With the feel of a traditional musical concert in a Kings court or actually a classical performance in the court of a Maharaja. The look had to feel rich and indulging. While ads were not a priority I did place an option to push at least one in the sidebar. I am proud of designing the logo or the header image and like it very much.
While I still use my hand-coded theme called "Master" here on Convertica, I uploaded Thesis to The Essence Of Indian Music and tried my hand at some customization. After about an hour, I could get it to feel similar. While I plan to do an indepth review when I get more time to play around with the theme during the weekend and research on it further, for now I'll leave you with the two pics of what the site looked before and after I changed the theme. Click on the images to view the full size and view details.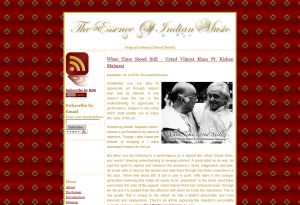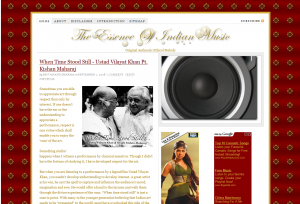 Watch out this space for a review coming soon…