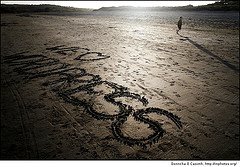 I used drupal to power Convertica. Later as I gathered experience with Drupal I realised its scaling potential and usability, I felt Drupal was better for an enterprise and wordpress for personal blogs. I see competition for Drupal from SharePoint. Don't know much about SharePoint but enterprises tend to stick more to vendor provided solutions than Open Source.
Having said that, I upgraded my company intranet site to Drupal 6, and Convertica to WordPress. Here are 10 great things I found about WordPress 2.5.
The Dashboard: As soon as you log in, you are greeted by the WordPress dashboard. The first plugin tells you how many posts, comments and drafts you have. Lower down the screen you have a list of recent comments and incoming links etc. Is it not just great to be able to log in and see at a glance what the site has been upto?

Works out-of-the-box:

You can get up and running straight after install. It has functions to allow you to import from one of the other CMS/blogging systems. And it can help you migrate your database to another WordPress install. You don't need to hunt for plugins to get started (may be later).

It installs quick:

Yep, they have a name for it. Its called the "Famous 5-minute install". Something that takes little input and is over in one step. Its a pain to see a lot of other systems around throwing an error on the face causing a lot of frustration to the first time user.
Ajax powered interface: WordPress has an Ajax powered interface. Your posts are saved while you are typing, you can click and edit inline (certain things). It has a media gallery and an excellent visual editor bundled.
Tonnes of plugins: If you want some additional functionality you have a plugin repository with hundreds of plugins that can literally do what you wish.
Slick and impressive Administration theme: It makes things feel light weight, elegant better arranged. It makes it a lot easier to manage the blog and site.
Community Support: Now just in case you (possibly) hit a snag you definitely want to be sure you are not alone out there trying to hunt down the bug. There is almost about a million folks running WordPress. Give it a Google Fight. If you have a support requirement just look up the forums.
Lots of Themes: Yes, these are peripherals that come along with fame. When you have a lot of following in the community, you get a lot of contributors. And you can pick that one theme amongst the thousands that looks exactly the way you imagined.
Tagging and Categorisation: You can have a cloud of tags and you can categorise your posts as you like.
Its Free: That is the best part of it. You can download it for free off the WordPress and give it a go.