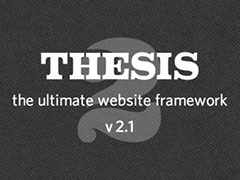 The legacy started with Thesis 1.x, when it transformed the way the WordPress websites were designed. With Thesis 2.1, Chris Pearson is ready for another big leap. And yes, he is good at it — at winning the laurels of appreciation from Thesis fans. It is a commendable job the way Thesis 2.1 has revolutionized the workflow of WordPress designers and developers.
It has in many ways lowered the entry-level barriers for the beginners and has simplified the task for advanced developers. While typography has always been the upper hand for Thesis, now things like Query Box, WP Loop, Thesis Colorscale, Preview Skin feature, responsive menu control, Google Authorship, Site Verification and Thesis Dev tools (a few things to mention) are making Thesis 2.1 a favorable option for WordPress designers and developers.
Working with Thesis 2.1 for over a month now, I have discovered a few caveats that come in the way of making Thesis 2.1 a truly robust solution. From a Thesis developer's perspective, inclusion of the following features will make Thesis 2.1 a complete user interface driven rock solid theme framework for WordPress.
Comprehensive Documentation for Thesis 2.1

Let's start with the basic amenity of working with robust solutions — a comprehensive documentation (just like Thesis 1.x). Thesis 2.1 is a different beast altogether and its revolutionized interface is not very inviting for every other developer. A comprehensive documentation at developer's disposal can eventually help in narrowing down the learning curve to thus make Thesis 2.1 more developer-friendly. Even though preliminary documentation is available at DIYthemes for getting started with Thesis 2, it is not enough to cut the ice.

Goodies for Custom CSS Editor

It's good to see syntax highlighting and Ctrl+S & Ctrl+F working in the custom css editor, but I still prefer going back to my text editor. The advanced Custom CSS editor still misses out on Ctrl+G and F3 which I find myself using quite often.

Syntax Highlighting for Text Box

It is a good thing that the text box supports HTML, but it would have been icing on the cake with syntax highlighting integrated into the text box. It is very much needed to detect syntax errors in the HTML markup; esp when the text-box content spans over several lines of code.

PHP Text Box

Adding the power of PHP to the text box is the next best thing we can ask for. If we have a handy PHP box in place, the developer will never need to touch custom.php for adding the hooks and filters. But I guess this is not as simple and risk-free in implementation as said; but this utility will eliminate the need of FTP client in the real sense (atleast for regular sites).

Advanced Excerpt Capabilities

Thesis 2.1 excerpt offers a few features to customize the excerpts like removing the excerpt ellipsis and adding a read more link. I wish we could have more features for the excerpts. I would like to see the features of advanced excerpt embedded into Thesis excerpt — for customizing the excerpt length on per loop basis.

HTML Class Field for Read More Link

One more thing lacking in Thesis excerpt box is the ability to add class(es) to read more link. The read more link with different class per loop can greatly help in styling read more links distinctly.

Ability to Limit the Content

Just like the advanced excerpt box, an advanced content box is what I would like to have on the list next. At times, we need to use content limit for the certain posts / templates. In such cases, having an option for limiting the content and adding a read more link in the content box can be a real help for developers.

Better Support for Custom Post Types

Thesis 2.1 auto-magically creates templates for custom post types and custom post type archives. But there is a glitch to this functionality. If you use the plugin for creating the custom post types and taxonomies, Thesis 2.1 creates the required templates, but if you register custom post types through code, Thesis does not generate the required templates. The support for custom templates is not as flawless as it was with Thesis 2.0.

Features & Teasers Box

Thesis 1.x's support for features and teasers was awesome. Though there is a workaround to make it work in Thesis 2.1 (by carefully configuring Query Box and WP Loop), it will be nice to have a "Features and Teasers Box" to get the ball rolling right out of the box.

Refinements to Restore Defaults

Thesis 2.1 restore defaults offers the ability to restore default skin data. For a first time user, it is a great feature to play around with the templates and revert back instantly. But it seems to have it's quirks. On some sites it just failed to restore default even after the database was cleared.
Thesis 2 is a bold step and needs some equally bold steps to impress the developers with what's been promised. With the advent of Thesis 2.0, today all sites need to be updated to Thesis 2.1 (which doesn't seem to be a seamless upgrade). Thesis 2.1 is good. As a developer I just wish it's stability, availability, development and the above mentioned feature-set would be a little more predictable.