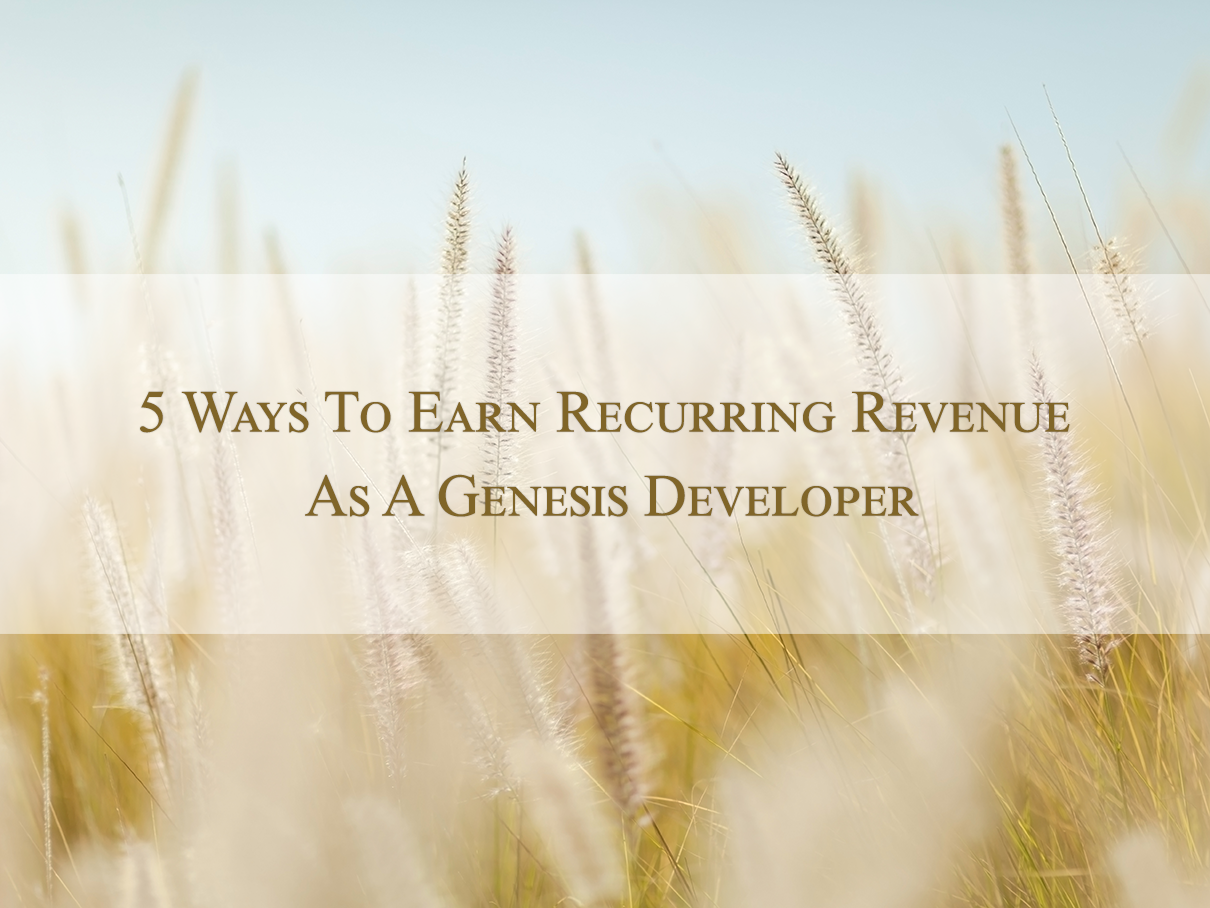 Recurring revenues is a hot topic. Almost everyone is talking about it. And it is one of the golden opportunities for making money for developers, freelancers and agencies alike.
Getting new clients every time is much of a task; especially when competition is on the rise. The entry level is low and every other person who can install Genesis child theme and customize it to customer's needs call themselves "WordPress Developer" or "Genesis developer".
If competent developers (WordPress and Genesis Developers) and agencies have to survive, they have to come up with creative ways of earning money without overcharging their customers. One of the best models in this respect is "Recurring revenue model". Take time to think about it. Look at your current business model and see how you can generate recurring revenue for your existing business.
Even if you are offering services or selling the products, you can grow your business exceptionally well with this revenue model in place. And the best way is to learn from the examples set by other fellow developers.
1. Affiliate Earning is your best friend
Elegant Themes, BYLT, DIY Themes, WP Engine, OptinMonster… every other theme / plugin / hosting seller out there in WordPress space is offering affiliate programs. Just take out some time to search and find the popular affiliate programs in your niche and start earning referral income by promoting the shortlisted products.
2. Build something on Genesis and start selling it
If you are just offering the services as a Genesis developer, it is time to step up and build products and set the sales mechanism in action. The market for custom websites is relatively going down and relying on services is like keeping all your eggs in the same basket.
Think about diversifying and I know most of us in the Genesis community are already offering Genesis child themes and plugins. And if you are not, it's time to set the stage. If you are interested in designing themes, go for niche themes; like themes for lawyers, medical offices, online publishers, online coaches, artists, etc. Look for the gap and fill it with your theme.
And if you want to go the plugin way, put your coders hat on and see what you can offer to the end users to solve their pain points.
3. Recurring support and updates for Genesis Child Themes
Most of the theme developers are already doing this. Some Genesis child theme(s) feature a license which needs to be renewed every year to get continued support and updates.
ZigzagPress, Dynamik, Musket and Lander for example are already offering this kind of subscription plan. In this scenario, you sell once and your customer keeps paying for continued support and updates over the time.
4. Build a Membership site and offer Online Courses
Sridhar Katakam and WP Sites are the latest addition to the trend of membership sites in Genesis space. They started writing tutorials for helping budding developers with customizing Genesis and Genesis child themes. After building readership and loyal customer base for the site, they turned it into a membership site. To access the content, one has to now become a paid member. This is a smart move in the direction of earning money via content creation. Bob Dunn has also transformed his site to work on the same model.
In this sense there is a lot of scope for a Genesis Developer to generate income by building membership sites and offering tutorials / online courses.
5. Up-sell Digital Marketing Services
There is no denying fact that digital marketing plays a crucial role in promoting the brands online. For the same, website owners need to actively invest time, effort and money on social media marketing, social media promotion, off-page SEO, etc.
This is an ongoing process and they need to have a strategy and high value shareable material that works in the positive direction for building the branding online. This is where you can bridge the gap by offering "digital marketing" services. This enables you to retain the client for a longer time and make recurring income without having to find (and impress) new clients.
Recurring revenue is not just good for making money. It is also important for building loyal customers for your business. If you offer one time service, your happy clients vanish after the project is over.
Recurring model gives you a chance to build longer term relationship with your clients. This essentially means success for client's site which is directly proportional to your own success. And the best of all… you will not have to keep looking for new customers and new avenues.
These tips are not only for a Genesis Developer, but work equally well for WordPress developer or any web developer for that matter.