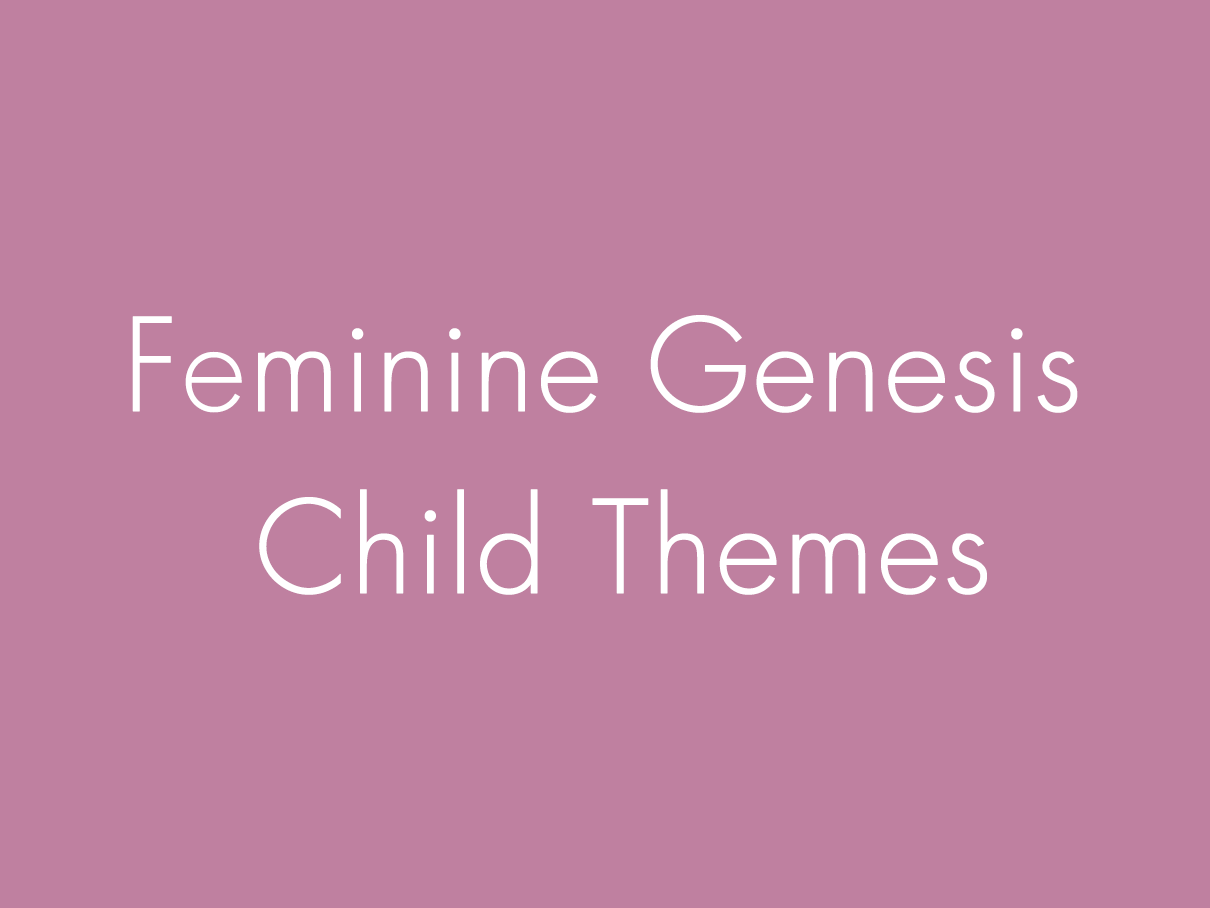 If you are looking for building a beautiful and stylish web presence for female bloggers and entrepreneurs, starting with feminine WordPress Genesis child themes is a good idea. WordPress Genesis child theme market offers stunningly beautiful themes for feminine oriented purposes; like running a personal blog, art and craft related website, lifestyle weblog, business and ecommerce site and so on.
The feminine Genesis child themes are designed with tasteful typography, elegant appeal, soft colors and artistic design elements which make you go weak on your knees. Choose a theme, customize the theme a little (all these themes come with customization options like color schemes, etc), add personalized branding and you are all set.
There are a lot of female Genesis theme designers who are doing an awesome job developing beautifully functional feminine themes. Here are 9 handpicked Genesis child themes to help you with quickly setting-up a professional online web presence for female bloggers, entrepreneurs and businesses.
1. Shimmer Theme by Viva la Violette
If you want your online presence to shine like gold, go with Shimmer :). Basically a neat and clean design, it's minimal polka dots background and golden shimmery highlights add an unusual appeal. The theme offers multiple home page options and 5 color schemes.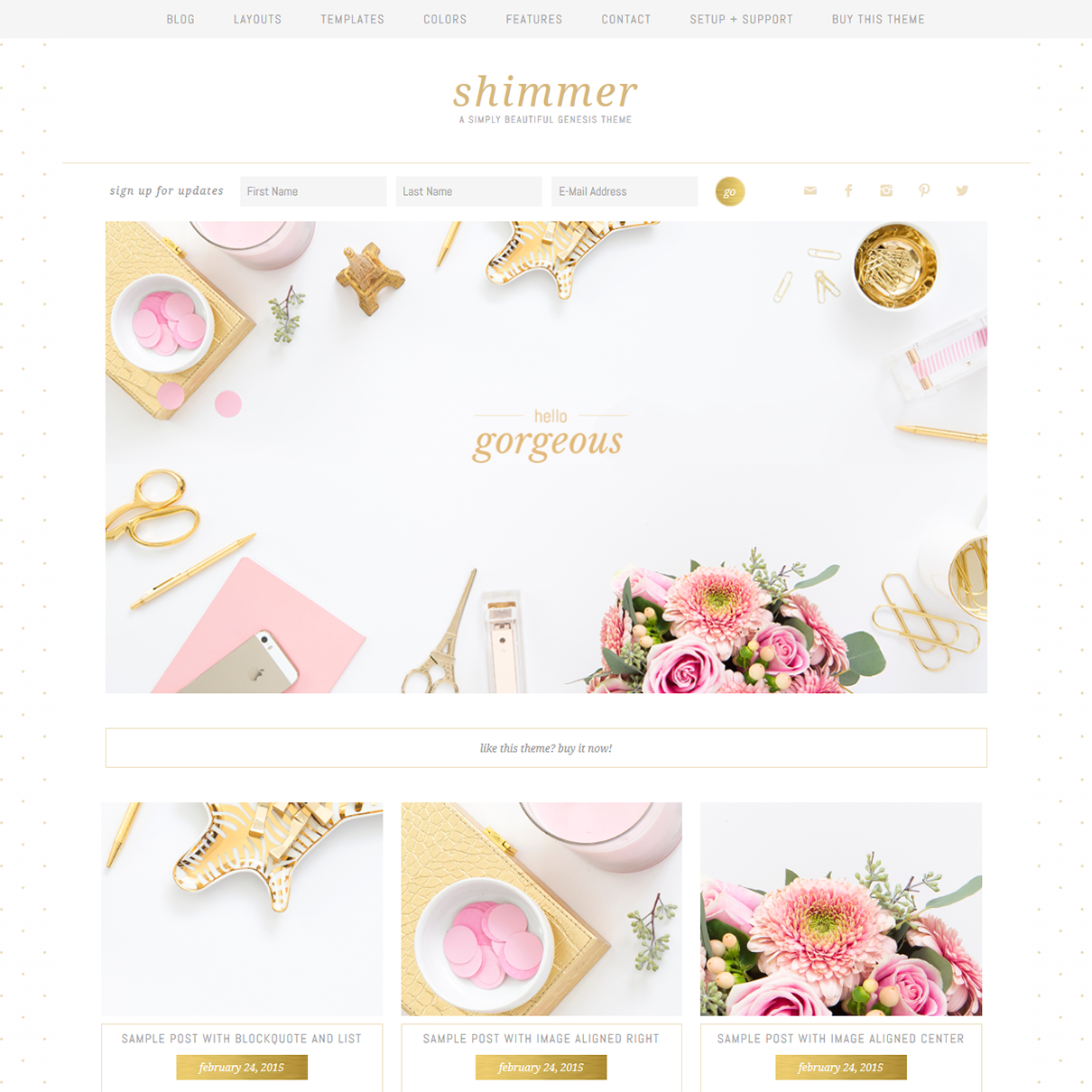 2. Rowan by 17th Avenue
Rowan features a simple, minimalist, soft blue and gold design. Well-organized homepage allows you to showcase your best work and captivate the user's interest. This theme is a perfect start for those who want to showcase a minimal portfolio and start selling with an e-commerce shop.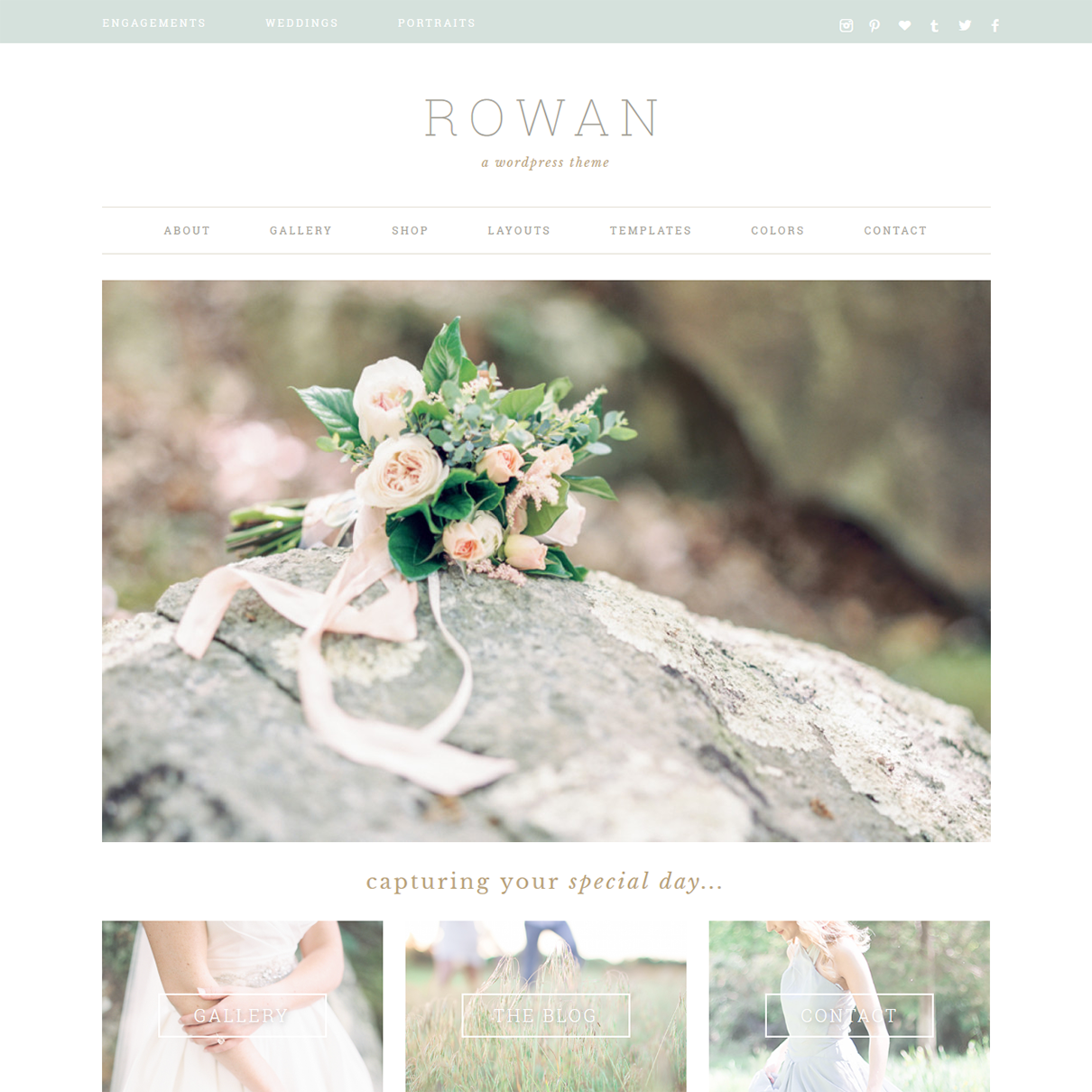 3. Everett Mae by Dinosaur Stew
Just like Rowan, Everett Mae is also a minimal design. Soft colors, 5 color schemes and subtle design elements add to the beauty of the design and make it a perfect theme with feminine appeal.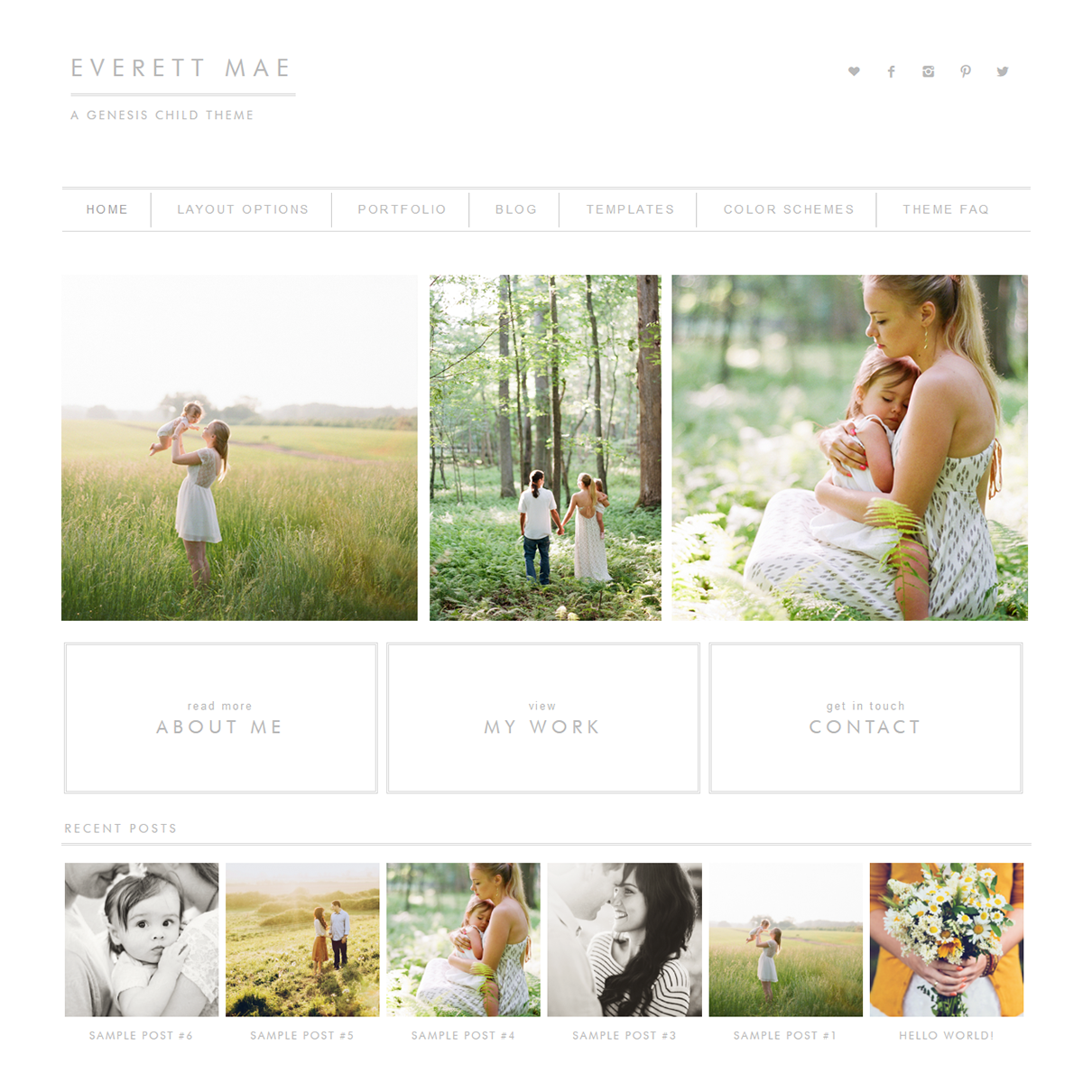 4. Chérie Theme by Hunniemaid
Chérie features a stylish grid design. If you want to set-up a Pinterest style blog, this theme does a good job. This theme allows you to beautifully showcase your images and content.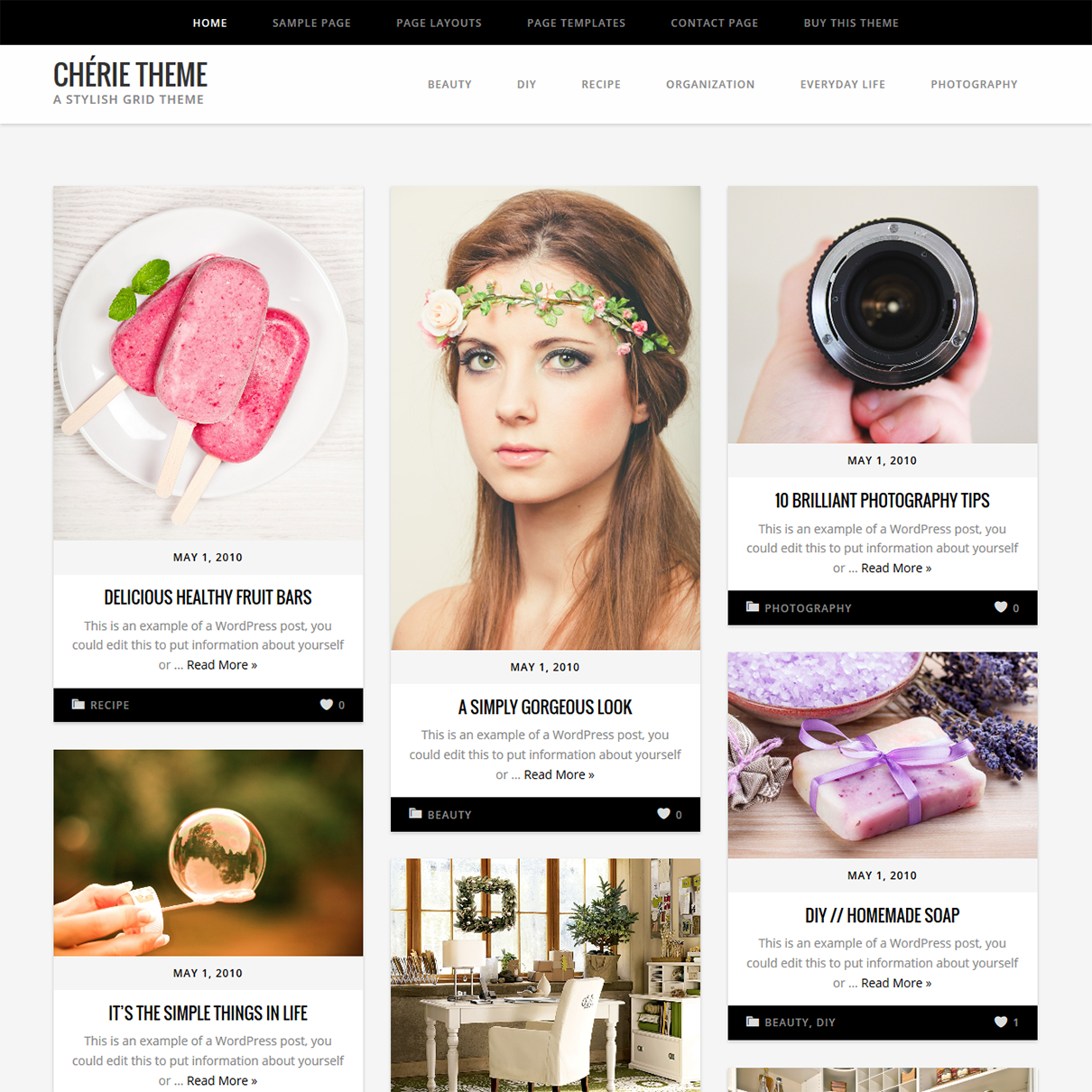 5. Annabelle Reloaded by Dinosaur Stew
Annabelle Reloaded features multiple homepage layouts, 3 color options, a built-in portfolio and is e-commerce ready out-of-the-box. A slight hint of watercolor, delicate icons, classic polka dots for call-to-action buttons are some of the highlights that make it stand out of the crowd.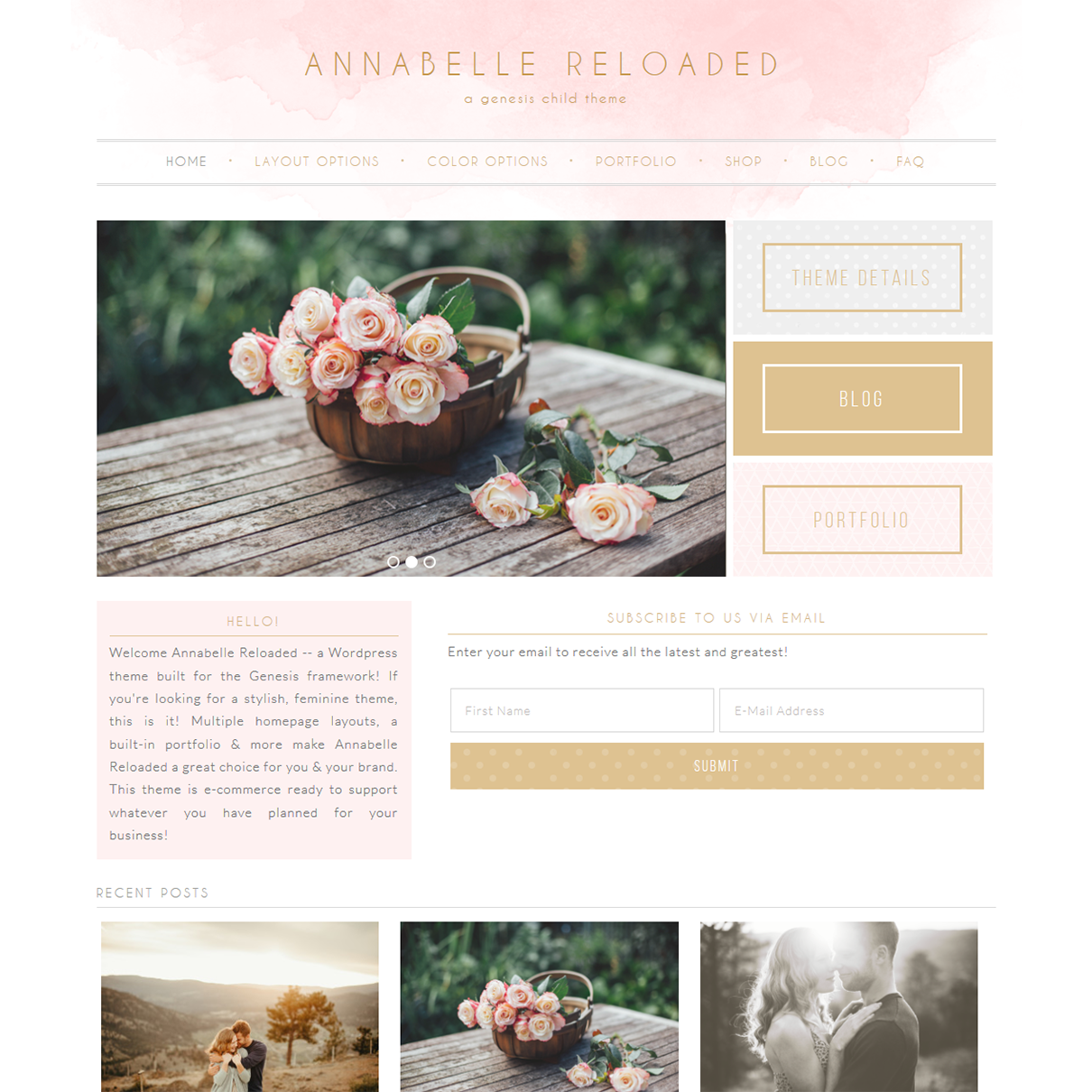 6. Chamomile theme by BluChic
Chamomile features a clean and minimal layout with focus on typography and beautiful imagery. The theme design is targeted for feminine event and wedding planners. The soft pink, pastel green and evergreen grey colors together make it an eye-catching design. Note: This is a WordPress theme (this is not a Genesis Child theme).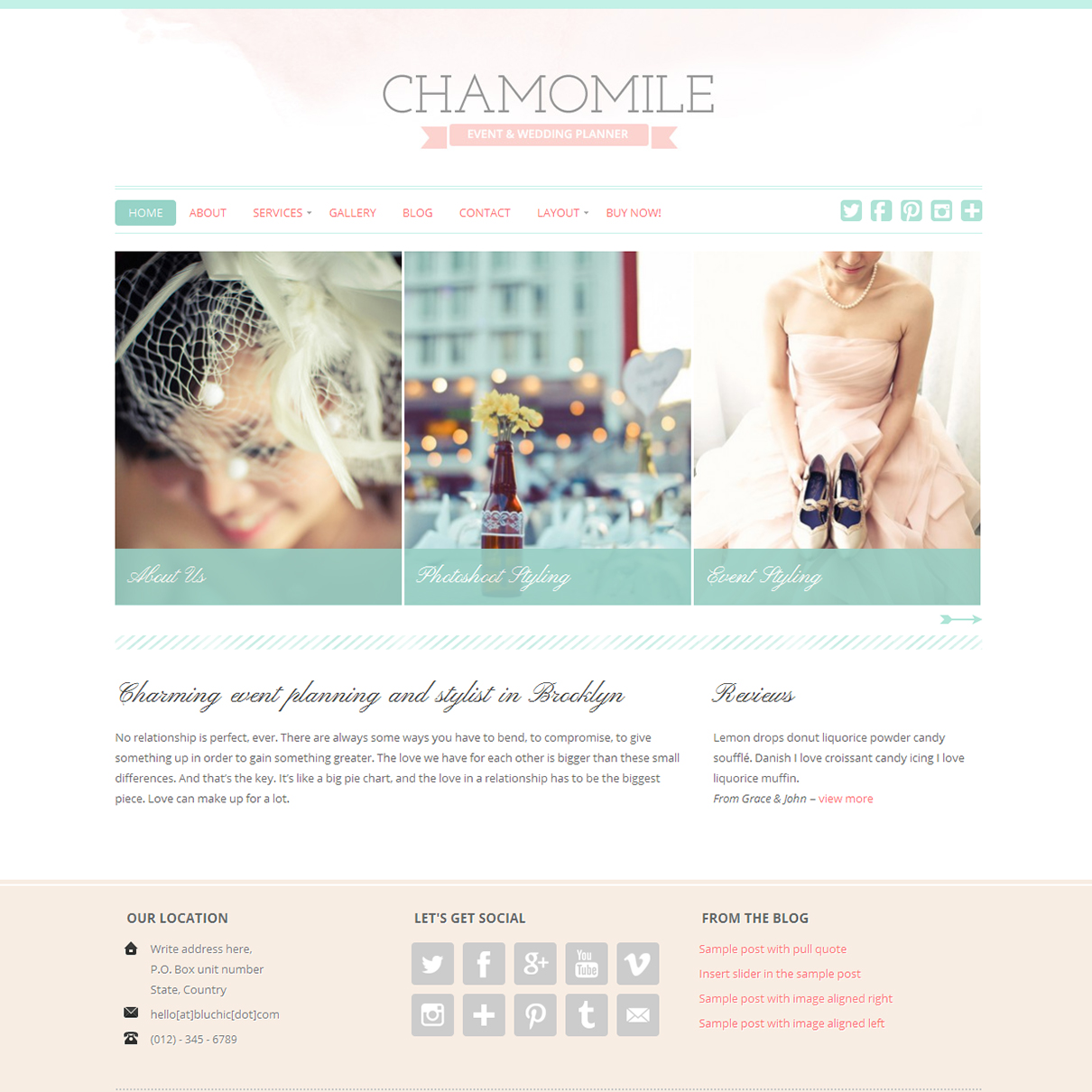 7. Newlyn theme by SculptureQode
Newlyn is an attractive feminine blogging theme. The homepage beautifully features a posts slider in the top section. It is then followed by the regular 2-column layout. The color scheme is awesome. Note: This is a WordPress theme (this is not a Genesis Child theme).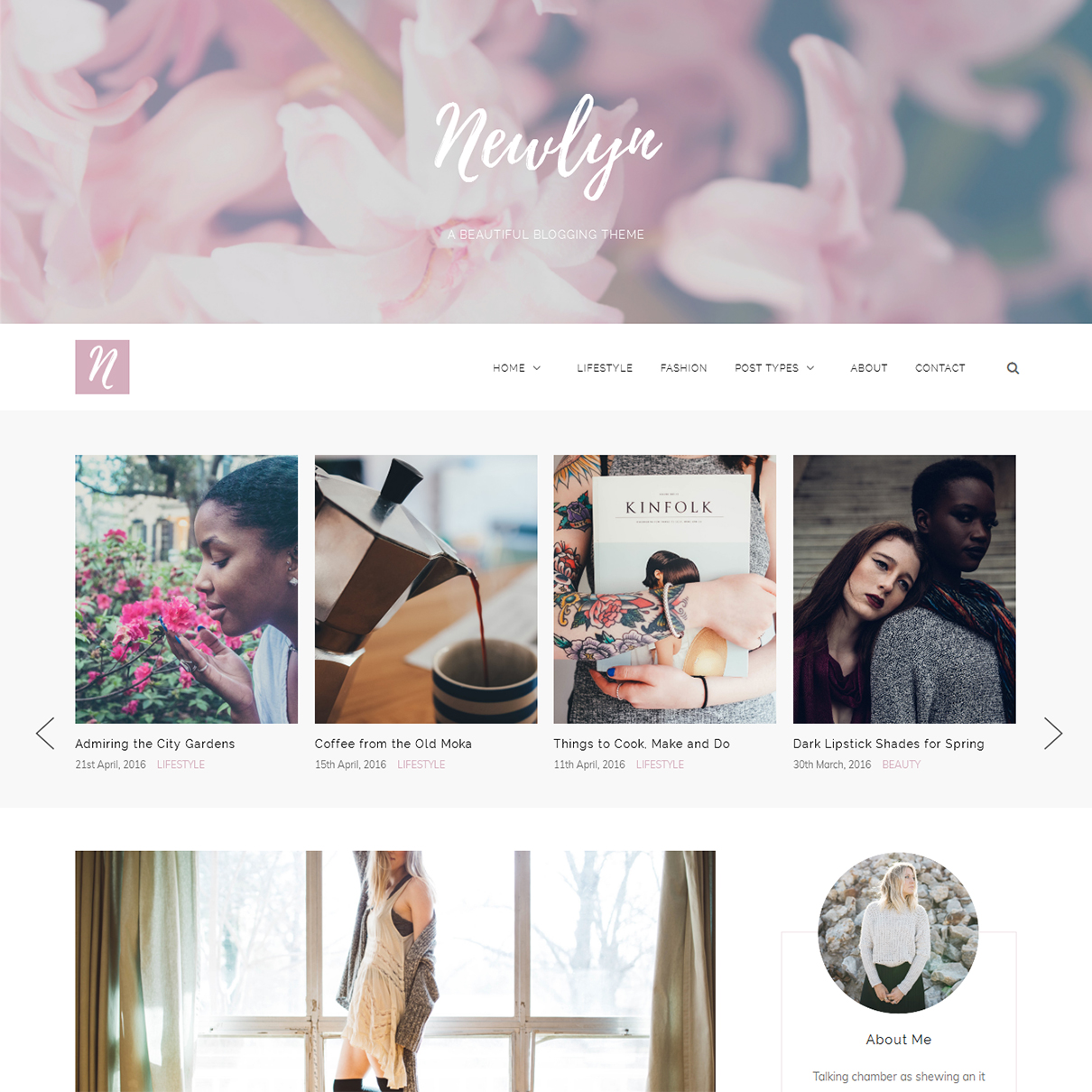 8. Hello Nouveau by Hello You Designs
Hello Nouveau is beautifully designed in terms of it's overall layout. The theme has a beautiful design and a creative layout. Beautifully laid out menu, easy to use widget areas, e-commerce and articles listing on the home page and the use of blue and gold makes it simply irresistible!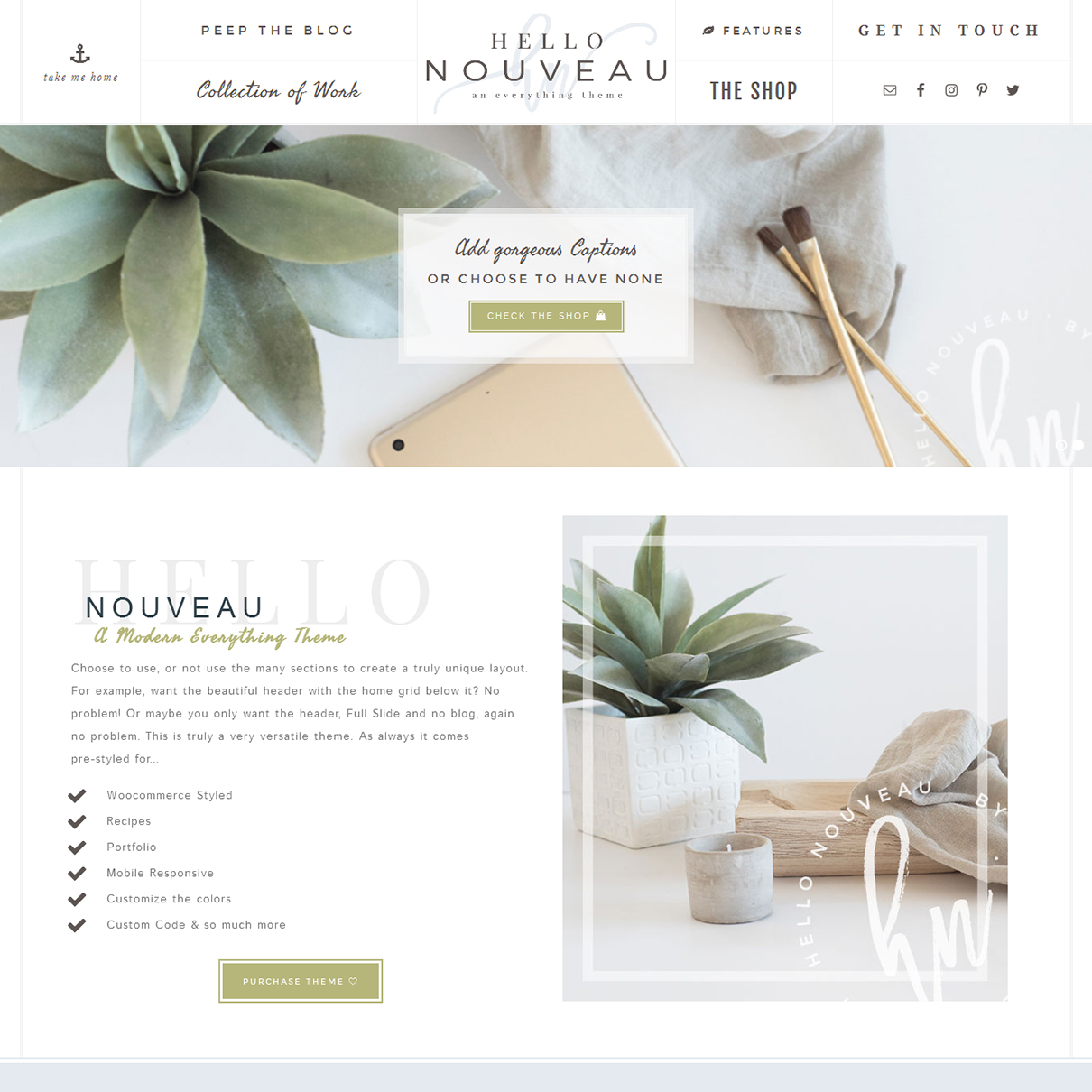 9. Femme Flora by Convertica
Femme Flora is one of the recent additions to the list of feminine Genesis child themes. Femme Flora features a pink design with a dash of style. Femme Flora distinguishes itself from other feminine designs with its rich set of features like modern grid layout for blog posts, animated search icon, 117 theme settings, 3 custom menus out-of-the-box, highly optimized call to action widgetized areas and a lot more. This feminine WordPress theme is WooCommerce ready out-of-the-box so that you can start selling beautifully.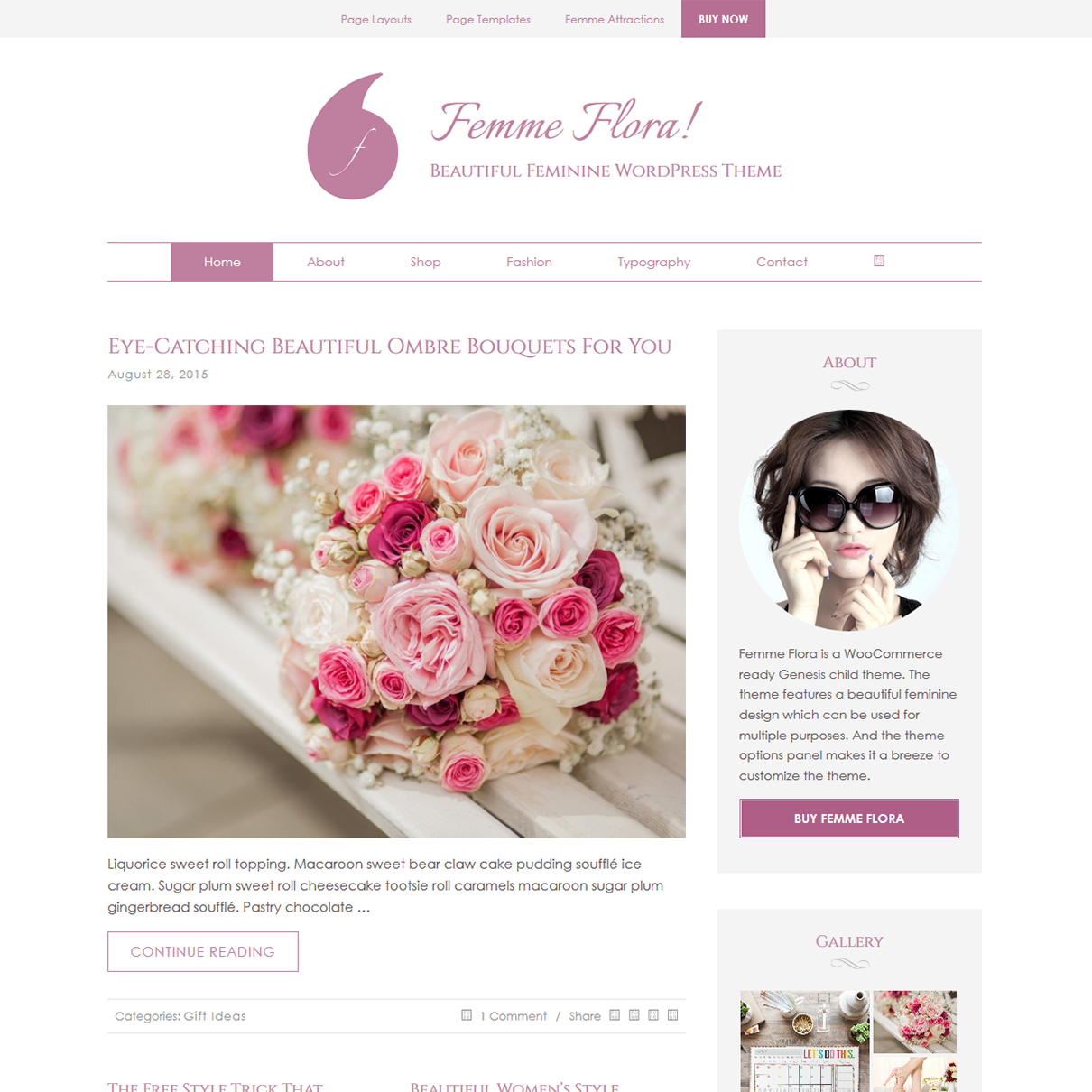 About Femme Flora Feminine WordPress Theme
Need more design inspiration? Check out beautifully designed WordPress wedding themes here →
Is your favorite feminine Genesis child theme on the list?