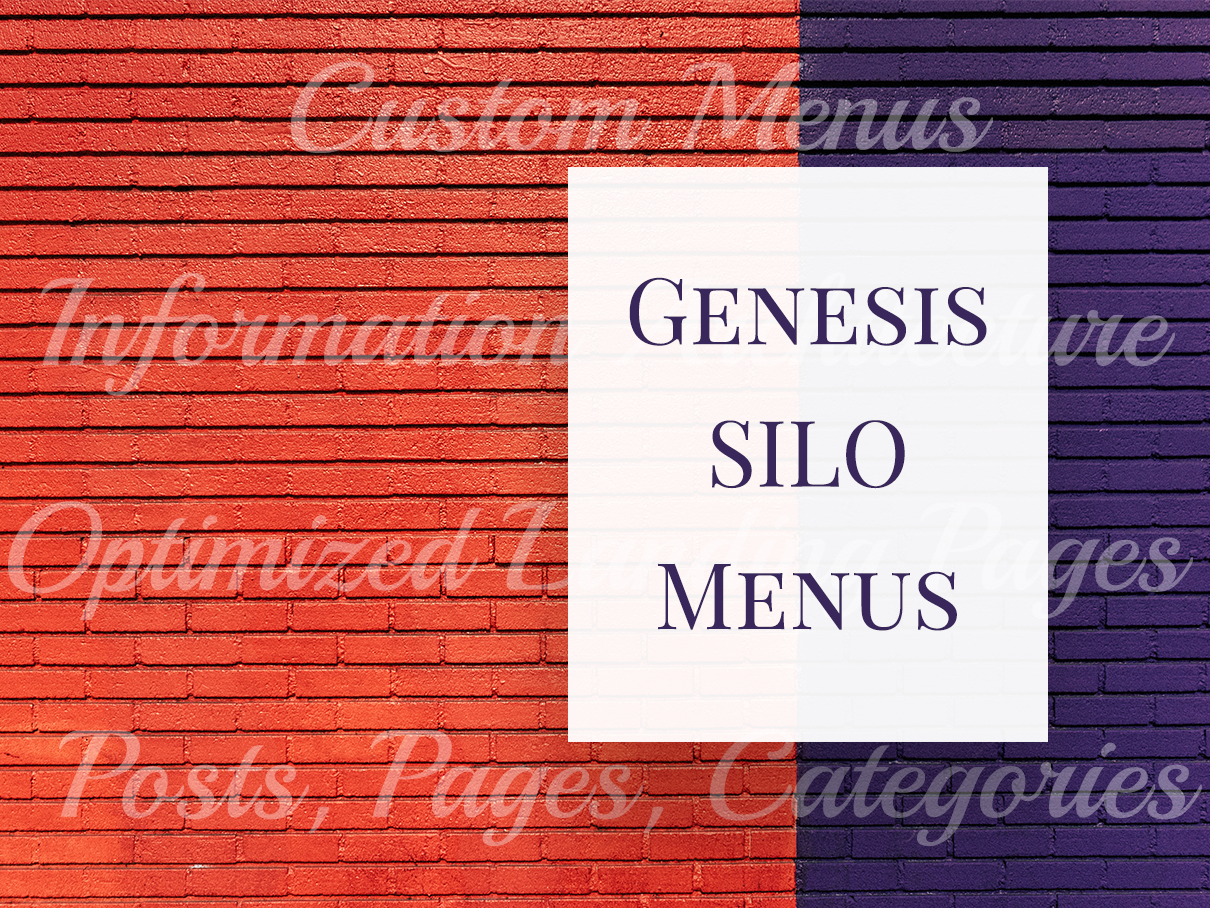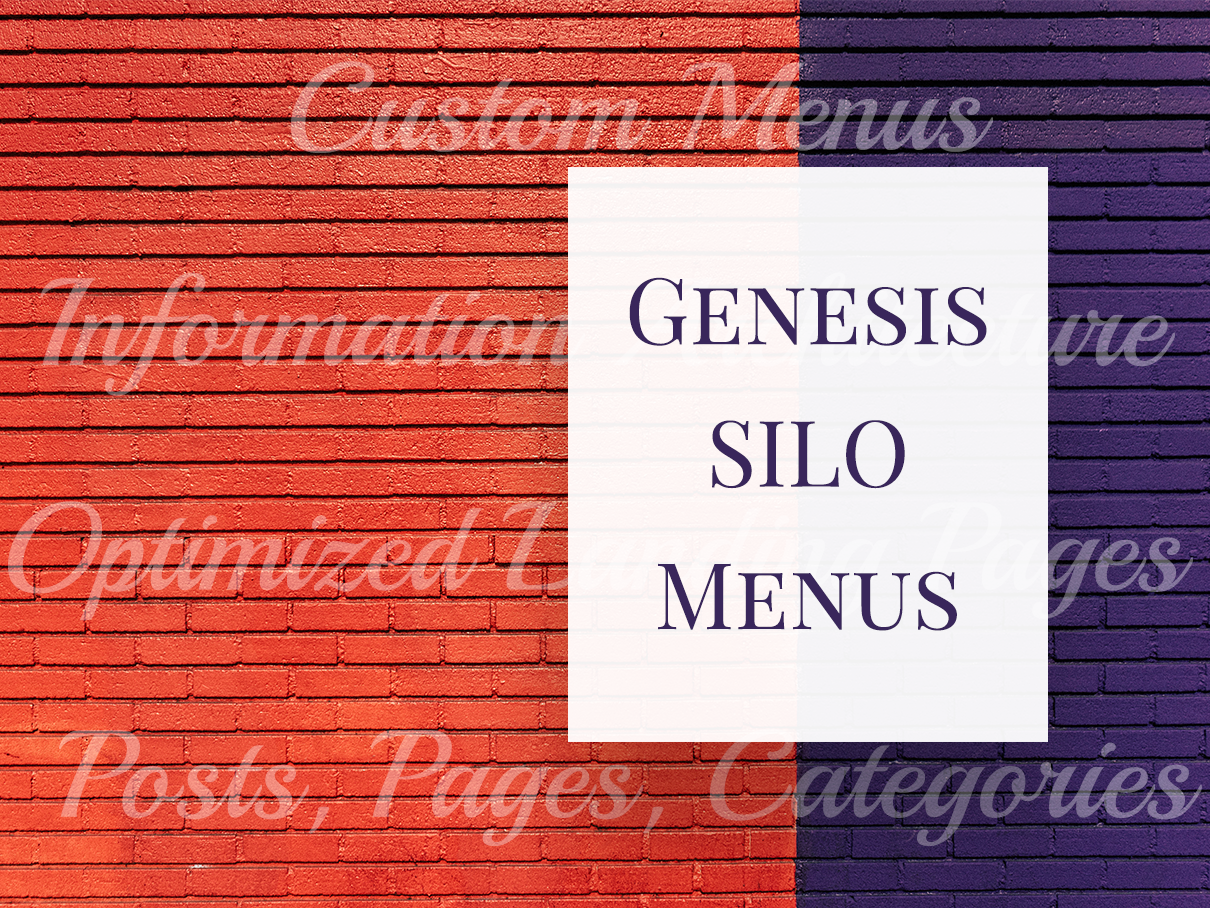 WordPress SILO menus is a powerful SEO technique to boost the search visibility and search relevancy of your WordPress website. The SILO menus are a great way of implementing the information architecture for your website.
Information architecture is the art of structuring and labeling the website's content in such a way that it is easy for the user as well as the search engine to navigate the site and find what they are looking for.
Structuring the navigation options according to user preference is an important step in simplifying the information architecture of a website.

— Anastasios Karafillis via Smashing Magazine
"Structuring the website's content" and "labeling the content" are the pillars of information architecture and SEO SILO menus are a means to an end (to achieve an information architecture for the website that works!).
This involves sketching out an intuitive navigation scheme for the site which makes use of targeted keywords to act as the labels and then deploying the navigation menu in the contextual manner.
That is, if a user lands on a page where you are talking about "Genesis Development Services", your navigation menu should be able to guide the users to other facets of your development services like "PSD to Genesis", "Genesis Customizations", "Genesis Child Themes" and so on. This navigation menu is highly contextual to "Genesis Development Services" but the same menu will loose it's context if the user lands on "WordPress Development Services" page.
And this is what information architecture and the SEO SILO architecture is about. Contextual menus and highly targeted keywords enable you to build a strong web of links which helps search engines one hand in swiftly crawling from one page to another and on the other hand enable your site visitors to find what they are looking for.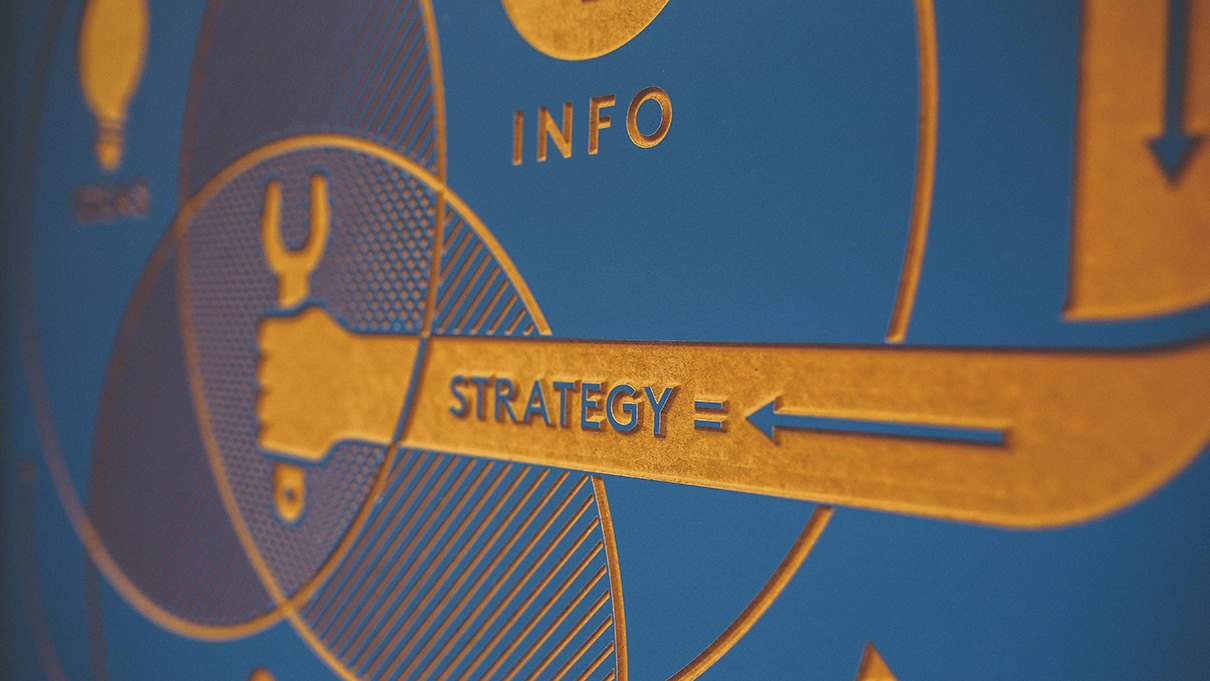 We can talk about information architecture and SILO menus at length, but that is out of the scope of this article.
Let's quickly come back to our topic…
How to build SILO architecture with Contextual Menus (and boost the SEO for your WordPress Genesis website)
The answer is, Genesis SILO Menus. Genesis SILO menus is a nifty SEO plugin which enables you to assign custom menus on a per page, per post and per category basis.
This helps you in implementing the well thought out navigation scheme for your website in a snap.
Create your website's content — posts, pages, articles and assign pre-defined navigation menus to specific pages, posts, articles and categories to make these pages highly relevant for users as well as search engine bots.
Genesis SILO menus allow you to select custom menus for each of the menu locations defined by your theme (and plugins). By default, the menu locations on per page / post / category are set to show 'Theme Default' menu. If you want you can assign a different menu. You can even set the menu as "None" to hide the menu on a particular page, post or category.
Genesis SILO menus adds a custom meta box to WordPress post editor screen, page editor screen and category editor screen. It works for pages, posts and categories out-of-the-box and you can extend this feature to custom post types as well as custom taxonomies via plugin's settings page.
Genesis SILO Menus meta-box

Genesis SILO Menus Settings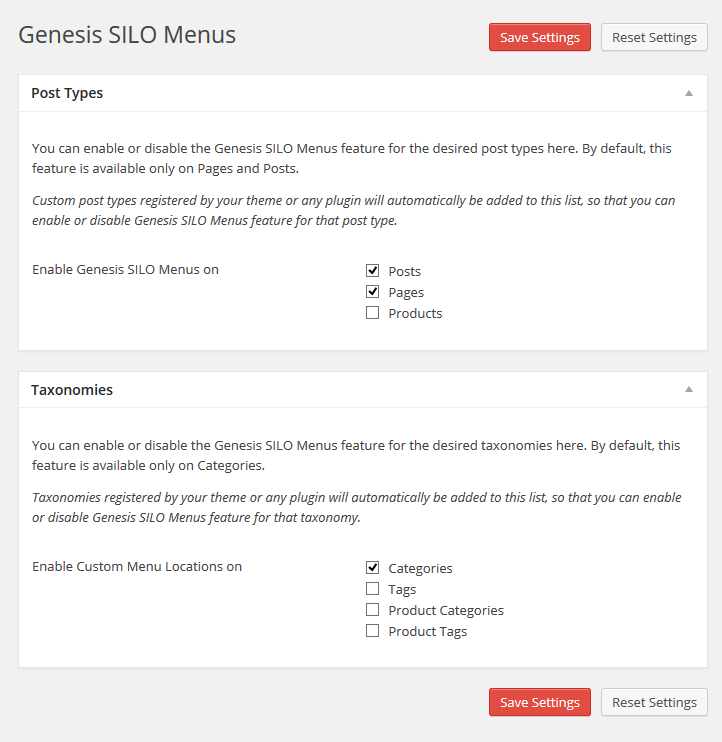 Utility of Genesis SILO Menus
Genesis SILO menus is not meant for every site. The plugin comes in handy for the content driven sites and business websites where there are multiple landing pages, category pages and each of these pages need to be optimized for highly targeted keywords and right search intent. Genesis SILO menus make it a breeze to implement the well thought out navigation scheme for content driven business sites.
Here's a quick summary of the features offered by Genesis SILO menu. Also, check out the usage scenarios…
Optimize your landing pages by assigning custom menus: For each of the landing pages, you can assign custom menus relevant for that particular landing page. For example, if you offer "Landing Page Optimization Services", you can include "Landing Page Design Services", "SEO for Landing Pages" and "Tips for high converting landing pages" in the navigation scheme for that particular page.
Hide menu(s) on your landing pages: The landing pages meant for conversion should ideally have no menu at all. Once the user lands on it, he should either convert or leave; he should not have the options to flee away to other pages of the site and get lost. Genesis SILO menus allow you to hide menu from particular page / post or category.
Highly targeted Category Pages: Genesis SILO menu enables you to have dedicated menus for category pages, each specific to that particular archive. You can include sub-categories in the navigation scheme or show menu on specific categories only.
Custom menus for custom post types and taxonomies: The plugin extends support for custom post types and custom taxonomies as well. And is 100% compatible with WooCommerce. The plugin thus allows you to assign custom menus for each product and product archives (shop) for your ecommerce site.
Why SILO architected sites rank better?
SILO is the most powerful on-page setup technique that you can use to beat your competition. Listen to the SEO masters and they will tell you that information architecture (SILO architecture) should be your no. 1 priority.
To reiterate:
Siloing or Silo theming is a way to structure your WordPress blog and website to rank for chosen keywords by correctly interlinking static pages and categories to create a chain of relevant information that is easy for the search engines to navigate, thereby rewarding you better search ranking.

Troy Schuyler
The website build on the foundation of SILO structure will thus have:
Keyword rich content.
The keyword rich content will make way for better interlinking of content.
Better interlinking of content results in three folds benefit. First, better user experience (high value interlinked content engages to read more content), second, this builds websites authority for specific keywords (resulting in boosting organic visits) and third, it allows the "link juice" to flow from SILO landing page to inner content of the site, thus making it easier for the search bots to crawl majority of site's content and thus increase the search visibility.
With proper SEO Siloing, "Growing a New Website to Over 100,000 Organic Visits Per Month" is not a far fetched dream. Check out how they did it.
Download Genesis SILO Menus
Genesis SILO menus is a premium Genesis SEO plugin. It helps you in implementing the SILO structure on your Genesis website without any hassles. Grab your copy of Genesis SILO menus here: