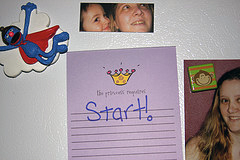 One of the readers Marlo Luttrell wants to put up a website. What suggestions do you have for Marlo? When you do it for the first time it is of big magnitude – especially when you choose not to use the shared, free blog hosts like Blogger, Movabletype, or wordpress.com, etc. It is fine to start with a shared and free host however the benifits outweight the expenses and investment in a personal hosting and domain. So where do you start? Right here.
Name and Domain

I list them together since they are interdependent. You are probably going to decide and settle down on some vague idea of the name you want for your site. Later when you look up a domain name chances are it's already taken. So you will have to be a little flexible here. You need to decide names which can come in handy in case you don't get that domain.

As for the domain, God bless you – here's an excellent piece by Steven Snell about the tools to help you find the right domain.

You may have to sit down for a few hours to fight the domain explosion. Most of the web hosts also sell domains. You if you want you can choose to buy the domain from the web host themselves.

Webhost

Look for

Customer testimonials
Downtime – the less the better, of course
Support
Price
Features – multiple domain hosting, email, bandwidth and space etc.

I use HostGator for hosting Convertica. They are pretty stable and have A class support. I can chat with them and can email the chat logs to myself. The support multiple hosting so I host my other sites like The Essence Of Indian Music here too. This will save you a lot of money in case you start a new site. Also configuration and setup will be easy and streamlined – one place for all.

CMS

The CMS is a matter of purpose and choice. Depending on what kind of site you are planning to start, you will have many options and a difficult choice to make – that many options can be confusing. Take a look at this list at Wikipedia. With experience I've narrowed down to two choices – Drupal and WordPress. Drupal is not all that user friendly but is a more strict CMS in that sense better suited if you want to harness the power of php and ajax right inside your pages and posts. WordPress is an all time favorite of bloggers with its user friendliness, and easily available public domain support.

Design

The design projects your brand, purpose, character, business and more. The design must be tailored to your business or purpose and shall differentiate you from the rest. If you are comfortable with web design you can do this yourself however a web designer is better specialized to attend to this.
Now that you know what you need the next step is to plan it out. What suggestions do you have for Marlo? Please leave a comment and share your thoughts.