Lander — Design Smarter • Launch Faster
With Lander:
You work smarter
Get amazingly powerful sites
Launch faster!
Lander allows you to build high-end designs that help your website grow and take your business to the next level. Lander is built for cutting-edge rankings and conversions and it lives up to the most demanding business requirements.
Be careful when working with Lander. You may never go back to any other Theme builder 🙂
Platform Features
HTML5 markup
SASSified theme base
Smart typography controls
Intelligent options panel
Custom Schemas
Top Notch SEO
Full Dynamic Responsive
6 distinct layout options
Professional support
Rich theme options

&

settings
Theme admin Panel.
Branding Control.
Design Settings.
Landing Page settings.
Schema options.
Import

&

Export settings.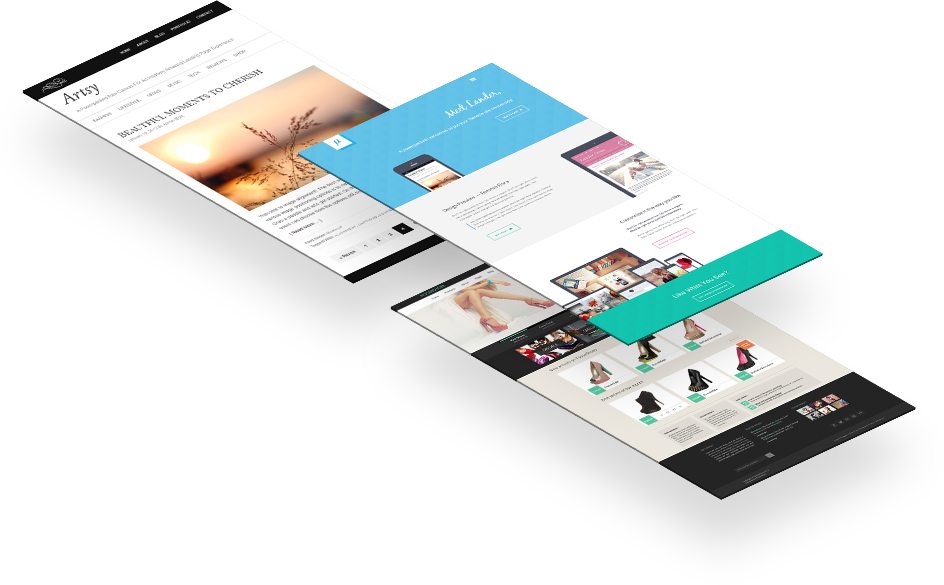 Full Control Over Typography

&

Layout
Over 115 design

&

layout settings.
6 distinct layouts.
Configure Layout widths.
Boxed

&

Full-Width layout options.
Unlimited fonts

&

color settings.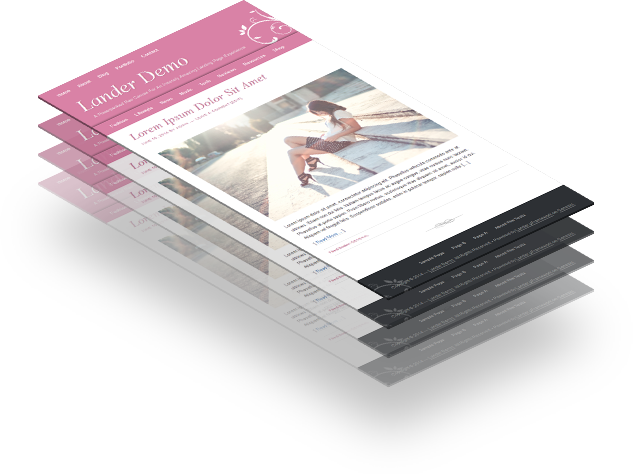 Landing Pages With Lander
Turn any page into a powerful landing page with Lander Framework.
Unique Landing page experience.
Show or hide UI elements.
Ability to set page specific custom menu.
Utilize Lander Schema Control.
Multiple landing page sections.
Create Additional Custom Templates.
Mobile specific template options.
A line of code is an instruction etched on stone. It can't be dragged neither will it drop or fly out elsewhere for that matter. It won't leave you hanging… And you can always do a ctrl+z.
Is Lander Right For You?
Site Owner
I want a website that's built on modern technologies and works on all the latest platforms.
I want a site that works for my business.
It allows me to tweak things without bugging my developer.
It should be built for long run.
I am willing to hire a developer to get the most out of my website.
~ In the Middle ~
I think I'm a developer.
I'm learning how to build themes and designs.
I want to build themes that I can sell and build my web-design business.
I can't code… I hate code… I don't wanna code.
I love toys.
Go for drag & drop page builder
Developer
I need something that allows me to build powerful, robust, standard compliant websites.
I only want to focus on developing and delivering the customer's requirements, not on re-inventing the wheel.
I want to build sites that work for the client's business, is headache free

&

bring minimal support requests.
I know my code and I need control.
The most advanced theme framework in the world!
Robust Framework
HTML5 Markup
SASSified Theme Base
Intelligent Options Panel
Fully Mobile Responsive
Retina Ready
6 disctinct layout options
3 menus out-of-the-box
Compatible with WooCommerce
bbPress Ready
Translation and RTL ready
Top Notch SEO
Feature rich theme
Rich Theme Settings
Unlimited Google Fonts
Branding control
Unique landing page experience
Quickly build landing sections
Ready to use designs
SILO Menus
Page specific custom menus
Category specific custom menus
Widgetized CTA areas
Template Specific Widget Config.
Schema control
Page template settings
Mobile template settings
Custom Shortcodes
Developer Friendly
Customization hooks and filters
Control Layout Widths
Post Type Supports
Deployment Mode
Debug Options
Shortcodes
Mobile Detection Functions
GPL Compliant
Unlimited Websites
Auto Updates
Priority Support
Comprehensive Documentation