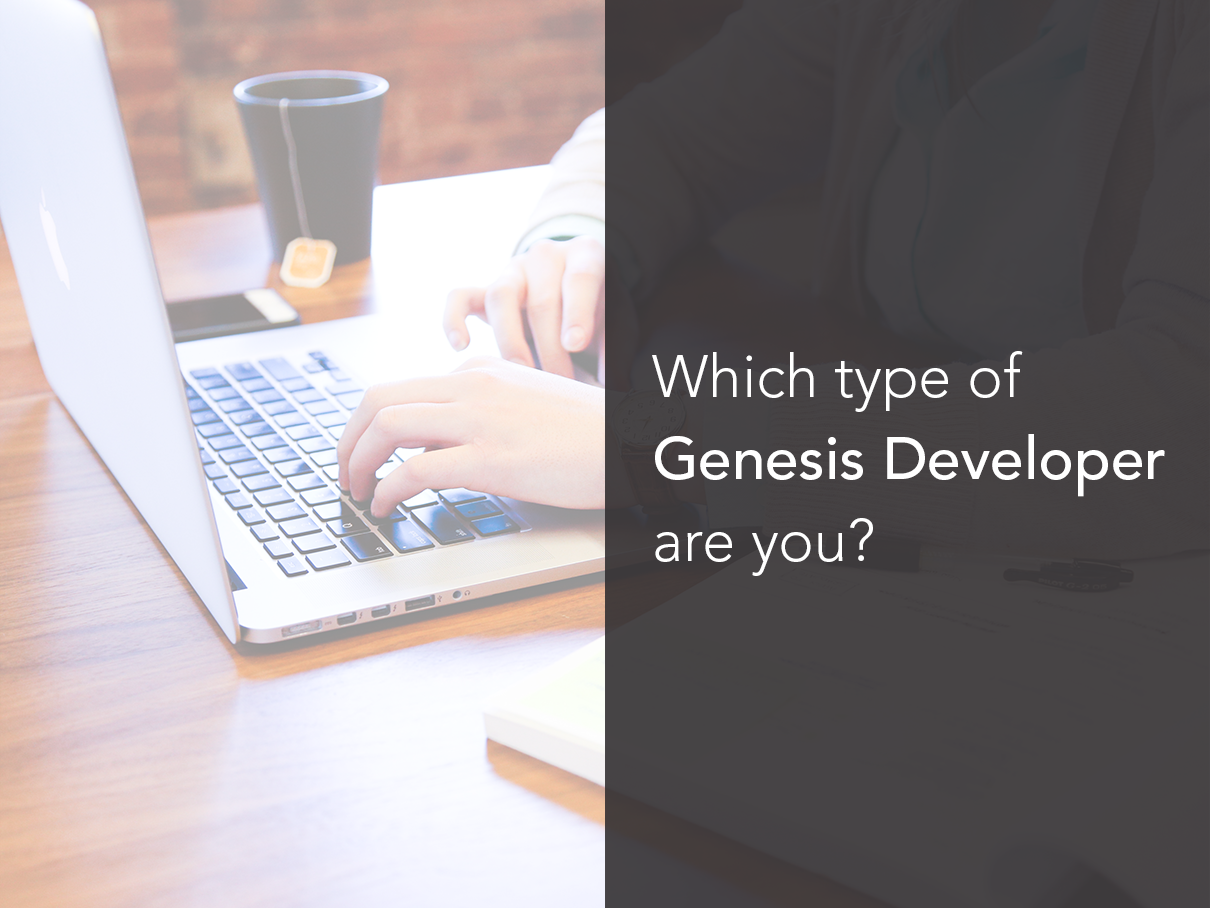 Do you know how many types of Genesis Developers are there? There are so many people who choose to develop on Genesis because they want to quickly and easily build incredible websites with WordPress… whether they're a novice or advanced developers.
Genesis indeed provides a secure and search-engine-optimized foundation that takes WordPress to places but it's not exactly along the lines of where-you-never-thought-wordpress-could-go. Competition is everywhere and there are some awesome frameworks like Underscores which is sassified, the Hybrid framework coded by a WordPress Theme Reviewer himself and there are several others. The difference lies in which framework works for whom. And once you've chosen Genesis to build upon, there are several stages before you actually become a seasoned Genesis Developer.
It's a painful journey to the top. That's because when you start with code and customization of existing work, there is a lot of frustration. There are times when you know this is the perfect child-theme that you can customize with little effort and you buy it. And then when you sit back and work on it, it feels as if Genesis is not worth it. There are times when you think you've figured it out but you really hope there was a better and easier way to get things done.
1. The Start-Up
This type gets a Genesis based WordPress project from a client but is still trying to figure out how to customize that ready-made child-theme they bought from StudioPress. This type forms the majority of the poster in the forums asking "how do I do x in y child-theme".
There's a lot of frustration at this level because they realize that it's not all that easy to build incredible websites with Genesis… and they realize they are a novice. Thanks to a lot who have figured things out and are there to help. Once you have been sold that idea that it's incredible, people go to extra lengths to get things working. Some aren't sure why it's still so difficult to build websites even after they've bought Genesis. They look for a drag-and-drop solution or a child-theme builder while others burn the midnight oil and figure things out and make it to the next level.
2. The Fix-It Guy
Hail this guy; he's made it through the roughest patch. He has actually learned how to quickly and easily build incredible WordPress websites with Genesis even though he was a novice. It will be some time before he starts helping others because he has to get himself organized and deliver some work before he is ready to offer voluntary help. Meanwhile it's not a bad idea to become an affiliate. Just pitch this and start making money on the side.
The Genesis Framework empowers you to quickly and easily build incredible websites with WordPress.

Whether you're a novice or advanced developer, Genesis provides the secure and search-engine-optimized foundation that takes WordPress to places you never thought it could go.
When this guy starts taking projects, they are yet to build a portfolio while their affiliate income keep them going. But as and when they develop a portfolio and help enough newbies and with some good networking, they land up on the StudioPress's recommended Genesis Developers' list. Not all are fix-it guys there, neither are all seasoned Genesis Developers. The list comprises of the best performing affiliates and well-networked people (of which there are several cool developers that I've personally worked with).
3. The Developer
The Genesis developer is a seasoned WordPress professional. He knows how Genesis works, what it is good at and where it falls short. He is not necessarily an affiliate with vested interest in making money pitching and selling a product to "everyone". He also knows Genesis internals very well, reports bugs, codes solutions around them and delivers some of the more robust and complex website solutions powering businesses. The StudioPress Genesis Developer list may not necessarily include them because that list is not about the best Genesis developers but it's actually a list of the best community contributors (think performing affiliates, community contributors and well networked guys).
However no one can escape the fact that the signs of a professional Genesis Developer are:
They know SEO inside out

When I say SEO, I mean on-page SEO and off-page SEO as well. This includes an understanding and value of structured data and how your site ends up showing in the SERPs. They wouldn't just install W3 Total Cache and Yoast SEO and leave your site to work by itself because they know the only difference between the higher ranks of your site and a million other sites using the same plugins is that little "extra" that goes in there. And a professional Genesis developer focuses on that little extra that will help your site stand out from million others.

They follow coding best-practices

Coding best-practices make your Genesis based WordPress website future proof and eliminates compatibility issues with other plugins as well as makes the site code portable. What happens when you install bbPress on a Genesis powered website? What happens when you move the site to a new domain, or even only change your permalink structure? A professional Genesis developer has thought of all these gotchas well in advance. Their code is fool-proof.

They Come up With Creative Solutions to Existing Problems

By their very nature and experience, a seasoned Genesis coder has been there, done that and knows how to address issues that come up time and again during the development of a website solution. They are available for consultation, they give sound advice and they even code solutions to address common pain points — just look at their contribution in terms of plugins and other code snippets.
The challenges are different at each level
Software sells primarily because of the sheer marketing done by affiliates. However in the long run, it's the merit of the software which decides if the sales and the customers will last. If you've just started developing with Genesis, how easy do you think it is to quickly build incredible websites with Genesis? Or is it quick and easy to build incredible websites with a Genesis child-theme?
If you have successfully delivered Genesis based WordPress websites, how useful do you find existing Genesis child-themes? How much time do you think you could save if you were to use a solution like Beaver Builder, Dynamik or Lander?
Having some incredible work under your hat and years of experience, how easy do you find it to cut to StudioPress's recommended Genesis developers' list? Or may be you just find out that the way to be a recommended developer is not to actually be a developer but a great affiliate and help-guy with good networking?
If you are a professional Genesis developer, you aren't eyeing to get on someone's recommended list; you actually recommend a solution without any affiliation — and that's how everyone respects your word. You command your own market. You are a solution to a million headaches your potential clients face and you build your own success everyday by delivering success to your clients.